Belobrajdic balls with
NCAA

champions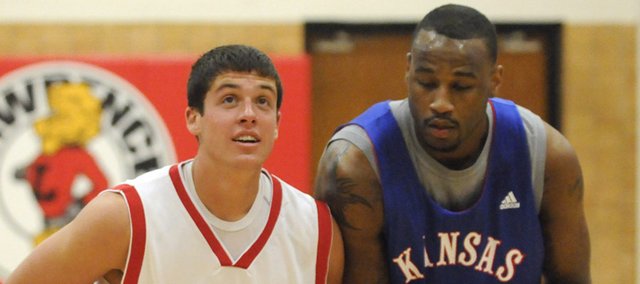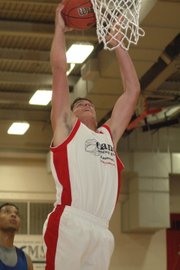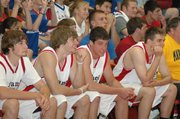 Gabe Belobrajdic was ho-humming his way through an uneventful day at Tonganoxie High a little more than two weeks ago when THS athletics director Brandon Parker called the senior over during lunch.
Parker asked the Chieftain hoopster if he would represent THS in a basketball game with area players.
"He never told me who we were playing," Belobrajdic said.
Then Parker dropped the bombshell: Belobrajdic would be joining nine other area prep basketball all-stars in a game against the barnstorming seniors from Kansas University's national champion men's basketball team.
"That's awesome," the stunned KU fan said.
The shock eventually wore off and the excitement grew for Belobrajdic, who enjoyed every second of his barnstorming experience Wednesday, April 14 at Lawrence High.
"Sasha Kaun was just as big as he looks on TV," he said of his favorite Jayhawk senior, who along with Russell Robinson, Darnell Jackson, Jeremy Case, Rodrick Stewart and Brad Witherspoon, took time to speak with the prep players before the scrimmage began.
Belobrajdic talked with Jeremy Case about how "it's not even fun for Sasha Kaun to dunk anymore. It's so easy for him he doesn't even care when he dunks now. He just slams it, throws it down, walks off."
The Chieftain forward got the starting nod in the game and had such a good time he couldn't remember how many points he scored afterward. But he did have a hoops moment he won't soon forget. During one possession, Belobrajdic caught a pass at the top of the key and pump-faked Kaun off his feet. The THS senior then went around the 6-11 center and scored a jumper over the outstretched hand of Robinson.
"It felt cool," he said, noting that he enjoyed it, even if it wasn't exactly "SportsCenter" worthy. "It wasn't like a huge dunk on Jackson or something."
Jackson was the Jayhawk the Chieftain matched up with for most of the night. A bit of a mismatch?
"Yeah, he's a decent-sized kid," Belobrajdic joked of the 6-foot-8, 250-pound forward.
The game featured a ton of goofing off by the KU seniors, who tallied 27 dunks, and Belobrajdic said the only serious matter was making sure the preps got out of the way when one of the champs came driving in for a jam. He said the prep players were instructed to get as far away as possible, as not to injure any of the players, some of whom have pro basketball aspirations.
The Kansas fan had such a good time he said he didn't have a favorite Jayhawk highlight.
"Just being able to play against the KU seniors," was the thing he will take away from the experience, Belobrajdic said, adding that nothing extraordinary happened. "I expected Sasha to have his head at the rim every time he dunked and everything else, but just the fact that I played with the national championship seniors was pretty awesome."