Former Tonganoxie mayor files for county commission
Former Tonganoxie Mayor Dave Taylor isn't done trying to serve the people of Leavenworth County.
On May 7, Taylor filed with the Leavenworth County Clerk's Office for the 3rd District Leavenworth County Commission seat.
"I think four years as mayor has helped me out and I've learned quite a bit," Taylor said. "I just want to help out Leavenworth County to my best ability.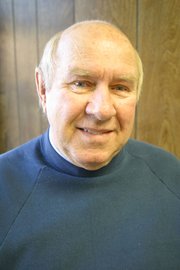 "There is no doubt Leavenworth County will continue to grow and I would like to be a part of it."
Taylor joins other Republican candidates John Flower, William Merkel and Marvin Tornaden. An Aug. 5 primary will determine the County's republican candidate.
If elected to the county seat, Taylor said he would like to continue the open door policy he instated as mayor. He also said that his two main priorities would be easing the burden on county taxpayers and starting to pave many of the county's gravel roads.
"Leavenworth County has lived too long on rock roads," he said. "It's time to have priority on paving these roads, because people living on those rock roads have a hardship."
Current Commissioner Dean Oroke will vacate the 3rd District seat in January 2009. No Democrat has yet filed for the office.
Candidates for all elected offices must file or withdraw their bid for office before a noon deadline on June 10.
Following the August primary, a general election will be held Nov. 4.
For more information or to register to vote, contact the Leavenworth County Clerk's Office at (913) 684-0421.