Local couple to compete at rodeo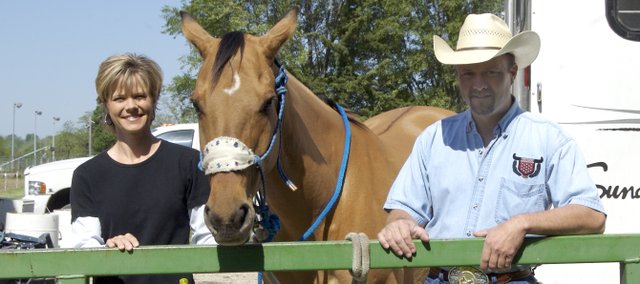 Travis and Angela McGraw practically grew up on horseback.
"I've been riding since I was 3 years old," Angela McGraw, now an avid barrel racer, said.
Her husband, Travis, began team roping competitively his sophomore year of high school at Tonganoxie High. The rural Tonganoxie couple enters weekend competitions and single-event "jackpots" across the Midwest each spring and summer when Travis isn't tending the family's corn and soybean crop.
And as the Abdallah Shrine Rodeo rolls into town this weekend at the Leavenworth County Fairgrounds, the McGraws hope to ride off with a couple of victories in their respective events.
"This event's in our backyard," Angela McGraw said, adding that the shrine rodeo is one of the bigger events nearby as far a professional rodeos go and is one she looks forward to each year.
Angela and her 17-year-old mare Bugs will race Friday morning at 8 a.m., and Travis will take the saddle, along with his teammate, fellow team roper Troy Gorrell of Sedalia, Mo., Saturday evening after 7:30 p.m.
Travis is the heeler for the two-man team; he quickly ropes the hind feet of the steer after Gorrell lassos the animal by its horns while riding horseback.
The McGraws will join hundreds of other participants and spectators at this year's shrine rodeo, a three-day event beginning Thursday at the Leavenworth County Fairgrounds in Tonganoxie.
Rodeo events generally are set to begin at 7:30 p.m. each night, and other activities planned in conjunction with the rodeo - a car show, craft fair and carnival - are geared toward making the event fun for the entire family.
Tickets for the rodeo are $10 for general admission and are available at B&J Country Mart in Tonganoxie, area Hen House Market grocery stores, at the shrine office, (913) 362-5300, or online at www.shrinerodeo.com.
Asked what makes her continue to ride competitively after so many years in the sport, Angela McGraw sighed and said, "It's in your blood; it's a passion."
For her, the rodeo is more than just a hobby, but it's just short of being a full-time career.
"By the end of the year, you either break even or have a few losses," she explained.
All the same, Angela and Travis have invested a lot of time, energy and money into their "passion."
The couple owns eight horses. Their stable sits just behind the family home on 207th Street, and they even built a private arena in their backyard, so they can get in more practice.
"It's just like football, baseball or any other sport," Travis McGraw said. "You can't just go out there; you've got to practice. And with a timed event, you have to keep the horses in shape and keep them in working condition."
Although the couple's 2-year-old son Trevor has not started rodeo events himself, he has begun riding with help from his parents, and Angela McGraw has no doubt he'll start soon.