McLouth reflects on school years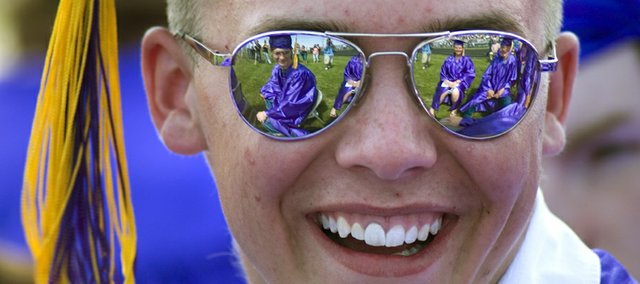 With purple mortarboards tossed in the air and yards of silly string flying, McLouth High School class of 2008 was officially graduated.
"It feels amazing," said Leah Hoffhines, who plans on going to Pittsburg State to study nursing. "The best part is getting to move on with life."
Saturday morning, 47 students joined the ranks of the many MHS alumni after the commencement ceremony at the Stan Braksick Sports Complex.
The ceremony started off with a prayer led by graduating senior Sarah Woodhead and was followed by class president and co-valedictorian Cassidy Kramer's introductory speech. After the introduction, Anna Hollingsworth read a poem called "Toast" before more speeches from the class valedictorians.
Kramer, who shared the valedictorian title with Martin Lucas, spoke about how she and her parents always held her education to the highest of standards, which led to her position at the top of the class. At one point, Kramer had to stop her speech to recompose herself after she began to tear up giving the address.
After the speeches, school staff announced the awards and the more than $100,000 in scholarships that were given to the students before handing the students their diplomas.
Kim Thomas, Lucas' mother, said she had mixed feelings about her son graduating.
"I'm happy and proud, but he's the youngest of four so it's a sad day for mom too because I won't have a kid at school anymore."
Lucas' father, Monty Lucas, was also happy.
"I'm very excited and proud of what he has accomplished and what he will accomplish," he said. Lucas will be attending Kansas University for a degree in business management in hopes of one day running a golf course.
McLouth Superintendent Jean Rush was happy for the fantastic weather during the ceremony and wanted to thank all of the teachers, staff and parents for all of the hard work over the years.