McLouth softball three wins away from championship
Photo Gallery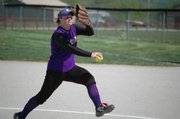 McLouth softball headed to state
Easton — Before they were 19-0, before the season started, even before practice began, McLouth High's softball players were thinking postseason.
"The very first meeting everybody wrote down what their season goals were," coach Ballard Patterson said, "and every kid on the team wrote down: Win the state championship."
The Bulldogs got two of the five wins that will make that dream a reality last Wednesday at Pleasant Ridge High School as they run-spread the host team, 10-0, in the semis and knocked off Wellsville, 7-1, in a Class 3A regional final to continue their undefeated season and earn a trip to the state tournament.
Patterson said this terrific season, which will continue on Friday at the state tourney in Manhattan, has been possible because the MHS roster is filled with quality bats, arms and gloves that have plenty of competitive softball experience. But the real secret to McLouth's success is the way those talented players have meshed as their coach has preached what he admits are cliches like "there's no I in team" all year. The Bulldogs have bought into that team-first mentality, though, and have been rewarded with a No. 2 seed at state.
No single player was responsible for McLouth's regional tournament wins either. Seemingly every player who took the field contributed. Sam Farris pitched a five-inning shutout against PRHS. Deanna Durkes hit a grand slam against PRHS in her first at bat since missing the final four games of the regular season with an injury. Lezley Lawson went 3-for-3 in the first victory with two doubles, then pitched seven dominant innings in the championship game, striking out 17 Wellsville batters in the process.
The best example of the team's depth and ability came in the third inning of the regional championship. The Bulldogs scored six runs on five hits and the frame started when the two players at the bottom of their lineup got on base. No. 8 hitter Courtney Stauch singled and No. 9 batter Stacie Stauch drew a walk. Then the top of the McLouth lineup came up and made WHS pay.
Kendall Patterson got her first hit of the day with an RBI-double to left field that opened the floodgates. Kaley Patterson then reached on a fielder's choice when she grounded to short and the Eagles unsuccessfully tried to throw out Stacie Stauch at home, a mistake that was compounded by throwing the ball away in an attempt to throw out Kaley Patterson, who was advancing to second base. That botched throw allowed Kendall Patterson to score, giving MHS a 4-1 lead.
The surge continued as Lawson singled and Melissa Rome stepped up with a two-run triple to left field. Rome then scored what proved to be McLouth's final run when Durkes drove her in with a single to left.
Lawson said the players tend to rally with large innings like that because they love watching each other succeed.
"When we make one big step, then it gets everybody else pumped up," she said. "We start getting on the ball."
Rome, who was 2-for-3, had two RBI and scored twice against Wellsville, said the players capitalized on a chance to pile it on in the third.
"We just went out there with confidence," she said. "We knew we had to get it done that inning."
Patterson said he often tells his team about the importance of jumping out to a big lead.
"There's really no way to teach that, but we talk about momentum and living in that moment," he said.
The Bulldogs should have plenty of chances to do that this weekend at Twin Oaks Complex in Manhattan. McLouth will take on Herington/White City (14-9) at 5 p.m. Friday. The winner of that game plays either No. 3 Thomas More Prep of Hays (21-1) or No. 6 Silver Lake (15-6) on Saturday at 10 a.m. MHS defeated Silver Lake in the first game of a twinbill this season before the second was called because of lightning in extra innings.
23-0 Wichita Independent is the No. 1 seed.
With the state tournament in front of them, the Bulldogs are staring down their preseason goal. A win Friday and two more Saturday and they can call themselves state champs.
"Now we're down to three," Patterson said. "And we're going to play every inning as hard as we can."