Setback in regional final proves how far
THS

baseball has come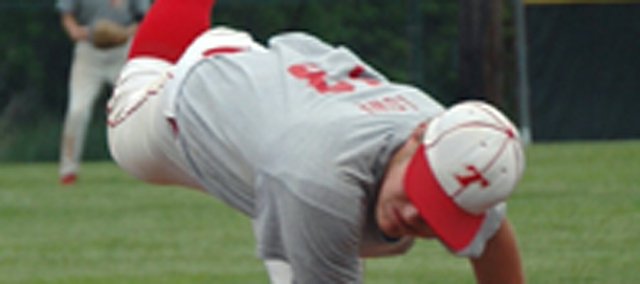 Photo Gallery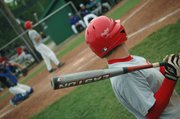 Tonganoxie baseball falls short of state
Ozawkie — Given the workman-like approach Tonganoxie High's baseball players have taken to improve the program since coach Phil Loomis took over in 2006, perhaps it was appropriate that last week the team competed for a trip to the state tournament wearing fairly ordinary gray T-shirts.
Donning the not-so-designer garb wasn't by design (Atchison came to Tonganoxie wearing red jerseys like the Chieftains in the first round of the regional tournament), but the players decided to keep it simple for their 10-3 semifinal win against Holton and their regional championship showdown with Hayden.
THS fell to the deep, talented Wildcats, 6-2, but the Chieftains went toe-to-toe with Hayden (16-4), a known commodity at state, and proved the Tonganoxie program is not just knocking on the door, but poised to kick it in.
Third-year coach Loomis' team went 14-9 this season - winning 10 of its last 14 - after finishing 8-9 in 2007 and 6-16 in his first year at the helm.
Although Logan Forbis, who pitched all six innings for THS and struck out five in the regional championship, played his final game for the Chieftains, he realized this year Tonganoxie baseball took a huge step forward.
"Hopefully we started a winning tradition," he said.
Forbis said many of the players didn't realize this team was capable of playing for a state berth when the season began. But the team had an epiphany when it defeated powerhouse Bishop Ward (No. 2 seed in the Class 4A state tourney), 1-0, late in the season.
"We realized what we could do and we saw our bracket and it looked pretty good in the regionals, and we knew we could do it," Forbis said, adding that the Chieftains matched Hayden for five and a half innings. "We showed we could do it until the (bottom of the sixth inning when the Wildcats scored four) where it shut down, but we were with them. They're not any better than us, they just made the plays and we didn't."
Sophomore Brandon Yoder might have summed up the difference between the Wildcats and the Chieftains last Tuesday best.
"They're good, they're pretty solid on defense and they hit the ball," he said of Hayden. "We hit the ball, just not as much."
True. Hayden out-hit THS, 8-4. Yoder, who blasted his second opposite-field homer of the day (he also had a two-run shot against Holton) to tie Hayden in the top of the third, had half those hits. Forbis and Blaize Oelschlaeger had the others.
But half of Hayden's hits came in that critical sixth-inning microburst and the players who return next season have a positive foundation on which to build. Loomis told the players, including the departing seniors, as much after the game.
"They finally figured out how to expand their belief in themselves," the coach said. "Seniors, for us, obviously don't get another chance, but hopefully they can come back and do it in something else. And young people can know we can expand it even bigger."
Six of Tonganoxie's 11 regular contributors will return next season. Juniors Rob Schlicht, Jace Waters and Blaize Oelschlaeger, sophomores Yoder and Tyler Lupton and freshman Ethan Lorrance should have greater expectations come next season. THS will, no doubt, miss the five regular seniors - Todd Brown, Keith Wentz-Hall, Jared Lamb, and, most notably, starting pitchers Erick Lowe and Forbis - but Forbis thinks the program is in good hands.
"Those guys will definitely have to step up and I think they can and will," he said.
Loomis said next season he expects the returners to play with a trip to the state tournament on their minds.
"There's no way that they want to end on this night next year," Loomis said after the regional final defeat. "They see that they don't have to and that's going to be a big part."
More like this story