The stars shine at
TMS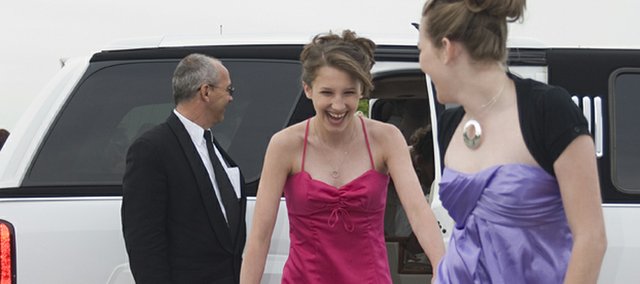 The stars were shining in bright daylight May 14 at Tonganoxie Middle School as the school recognized the most exceptional seventh- and eighth-grade students during the Night of the Stars.
"It's a terrific way to recognize the kids," said Jonathan Myers, father of TMS eighth-grader Jonas Myers. "It's fun because they get to dress up. It's like a junior prom for them."
The night kicked off with a limo coming up to the school's front doors to drop off Tim Tice. It was then time for the stars to walk through the limo and down the "red carpet" really red mats to the awaiting flashbulbs of the mom- and pop-arazzi. The criteria to attend the night of the stars requires students to do well academically, have excellent attendance and do right with their actions.
Inside the school, the stars were seated and served steak dinners by their parents before the parents served themselves hot dogs.
"It's always pretty fun to see the parents serve us, especially to cut our steak," said Jonas Myers.
To which his father replied, "I did that when you were three years old too so it wasn't that much of a sacrifice."
After dinner was the award ceremony. In seventh- and eighth-grade groups, the students lined up to receive their certificate of achievement and a medal.
Besides the star awards, two eighth-graders were also honored with citizenship awards.
Sarah Williams and Jonas Myers were chosen to receive the award.
"These students are respectful to each other, to authority, to property and also look after other kids and take time to be helpful to each other, not just their peers," said Debbie Holloway, TMS language arts teacher. "They are looked up to by the other students. These are the kids that you know when they listen to you. They will look you in the eye. They participate in class very well and are very responsible."
Besides the students getting awards, a very special award went to a person who has put in a lot of hard work and effort for the school.
Tim Tice was named this year's recipient of the Kasper Award for all of his work at the school.
"We think he embodies the service we are looking for to enrich our learning community," said TMS principal Jill Dickerson.
This is her first year as principal at the school, but she did attend last year's night of the starts.
"It's been a wonderful experience." she said. I've had great parents to work with and they have been the ones to take the project and make it happen."