TES

principals praise test scores in unusual ways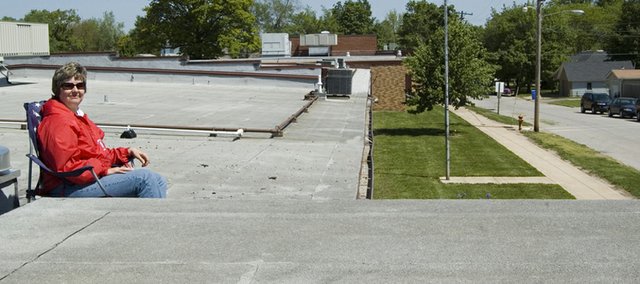 Tonganoxie Elementary principal Tammie George spent the day Tuesday on top of the school's roof.
It wasn't that she had had enough of students during the last week of the school year, and she wasn't trying to build a base tan in the bright, springtime sun.
George and assistant principal Ty Poell, who had his head shaved during an all-school assembly Wednesday, were simply fulfilling a bargain they had made with TES students. The administrators had agreed to let third- and fourth-graders choose a "punishment" for them if the students met building goals on the state assessment tests, taken earlier this spring.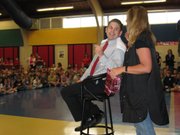 "We made a deal with them," George said from a lawn chair on her rooftop perch Tuesday. "We challenged them on three levels to improve scores: individually; as a grade level; and as a school."
George reported that preliminary scores on the standardized tests taken by third- and fourth-graders throughout Kansas indicated that Tonganoxie had reached the state's top Standard of Excellence tier in math and reading for the second straight year.
Results will be made official in August, and, at that time, the school may be adding yet another banner to the front of the school, boasting students' test scores.
For now, though, students are able to celebrate their academic accolades.
Amongst chants of "Make him bald!" and "Mohawk!" Poell received a buzz cut at Wednesday's assembly by Diane Theno, a stylist at Studio 800 in Tonganoxie.
"It was intense in there," Poell said following his shearing. "It was serious business for them (the students)."
He told students, "This morning when I woke up, I looked at my hair and said, 'Goodbye.'
"I am so proud of all of the students and teachers for meeting their goals : We've had a great time, a great school year and I can't wait till next year."
George, who sported a definite tan line from the previous day, agreed. She said, with this being the first year to have state assessments over the computer, "We talked with staff a lot about doing well and improving scores, and they've really taken the ball and run with it."
For fourth grade teacher Beth Fritz, the added focus and fun incentives really made a difference.
"This definitely encouraged them," she said, noting that teachers posted the building goals during testing for students to see.
And one of Fritz's students, Emma DeMaranville, said, too, "I think it helped. I knew if we did really well, we'd have something special."
At the conclusion of Wednesday's assembly, George encouraged this year's second- and third-graders to think of what they could do next year should there be a repeat performance on the assessments.
TES staff also handed out medals and awards recognizing students for the academic achievements at a 2 p.m. ceremony.
As for Poell, with summer approaching and having a bare noggin, the assistant principal said, "I've got to go buy more hats now."