A tip of the hat to the
THS

senior class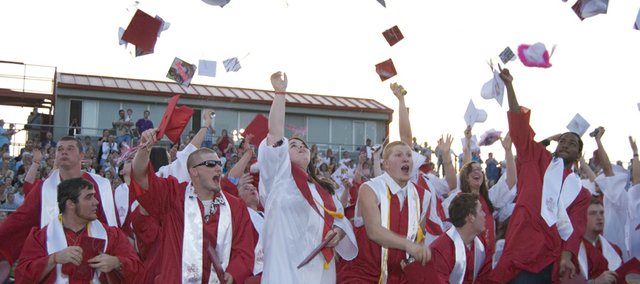 Tonganoxie High School principal Jamie Carlisle said he was going to do a juggling act at Saturday's commencement exercises.
And then he didn't.
Carlisle said there was no way he could juggle. However, he did have five things to "juggle" - four light bulbs and one ball. The light bulbs represented friends, family, spirit and health, while the ball represented work. He said no matter what happens with work, you always bounce back from it, which he illustrated by dropping the ball on the graduation stage. He then dropped a light bulb and it didn't bounce back, but rolled across the stage.
"Work is always going to be there," Carlisle said. "If you drop the ball, it will bounce back."
He said life is a juggling act, and it's important to balance friends, family, spirit and health.
At this year's THS graduation at Beatty Field, 149 graduates filed in for commencement exercises.
Class president Ashley Lohman gave the welcome address and noted "life will change as much as the gas prices."
She also spoke about Carlisle's first year as THS principal, how important he has been to the school and how he could change a bad morning into a "good morning." Lohman was referring to Carlisle's greeting to students each day of "good morning," the same greeting he gives to a student he sees in the hall regardless of the time of day.
The Senior Ensemble vocalists sang a song that was written about Tonganoxie, while the Chieftain Singers also performed.
Salutatorians Samantha Franiuk, Tyler Gurss and Matt Williams were recognized, as were valedictorians Jake Bontrager and Kristen Titterington, the first students in school history to score 35 out of the possible 36 on the ACTs.
Bontrager urged his fellow classmates to do their part and "change the world."
When Carlisle introduced Titterington, he mentioned that on her first try at the ACTs, she scored a 34.
But she took the test again.
"If you're like me, you're scratching your head," Carlisle said with a laugh. "If I got a 34, I'm pretty happy I got a 34."
But on Titterington's second try, she tied Bontrager's score at 35, which Carlisle said was a testament to her determination.
Titterington discussed many of the memories of high school during her speech and what she learned.
For instance, she said she learned from athletics director Brandon Parker "that old band uniforms looked best on a hanger," which drew laughs from Saturday's crowd.
Foreign exchange students Marie Caroline Faisant, and Elisa Fourt, both from France, and Larissa M. Carvallio Mansor, of Brazil, were recognized.
Later, seniors walked across the stage to receive their diplomas, some giving Carlisle knick-knacks as they greeted him.
Students also decorated their mortarboards, including Roxi Grizzle, who made a red foam "N" and inserted small lights in the letter to adorn the top of her hat. Grizzle will attend the University of Nebraska in the fall where she will throw javelin. She said it took about 15 minutes to decorate her cap and pay homage to her future school.
When all graduates received their diplomas, the students threw their hats in the air and proceeded with another tradition - spraying each other with Silly String.
Senior Awards Night
On Thursday, students participated in the inaugural Senior Awards Night at the Tonganoxie Performing Arts Center.
Previously, awards and scholarships were handed out at graduation, but this year a new tradition was started. Presenters gave 58 local scholarships. Other awards and certificates were handed out Thursday. It was announced that students received a total of $841,205 in outside scholarships as well.
Brent Smith read off the various scholarships of seniors. When he made it to Matt Williams' name, he asked the audience to bear with him. Williams received 10 scholarships.
"Wow, that's a lot of scholarships," Smith said.
For more on what scholarships and awards were presented to whom, see upcoming editions of The Mirror.
Time after time
Right after graduation rehearsal Friday, Mary Newell, Tonganoxie Middle School eighth-grade math teacher had a surprise for the students. For four years she has kept sealed envelopes containing items and a survey that the class of 2008 filled out in middle school. Some of the items were pictures, personal trinkets that once had significance and for Josh Nowasell, a stick of gum from 2004 that he began to chew shortly after finding it.