Chieftains win four medals Friday
Grizzle, Hileman and Belobrajdic medal-winners at state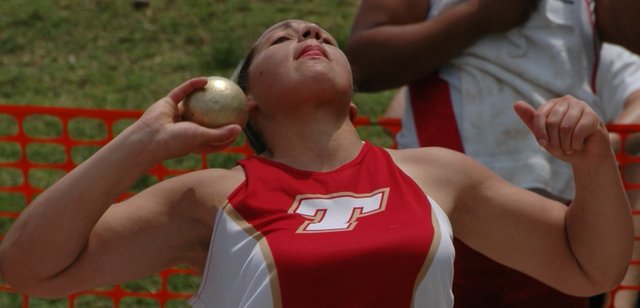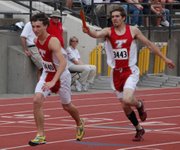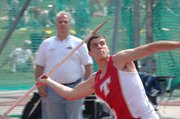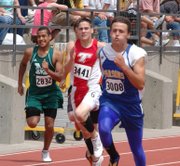 Wichita — On the first of two days full of running, throwing and jumping events at Cessna Stadium, Tonganoxie High athletes won four Class 4A medals, including a second-place finish in the girls shot put by Roni Grizzle, at the state track and field meet Friday.
Grizzle, whose day started with a ninth-place finish in the discus, was the final Chieftain in action Friday afternoon and on her last throw in the girls shot put she heaved a 42 feet-8 inch throw to land a second-place medal.
THS senior Tracie Hileman had a busy Friday morning and finished sixth in the state in a pair of events - the girls long jump and high jump. Hileman came one place away from medaling in the triple jump, finishing eighth. She also finished eighth in the 100-meter high hurdles preliminary, which qualified her for Saturday morning's final.
Senior Gabe Belobrajdic won a medal in the boys javelin with a throw of 167 feet, 6 inches.
Tonganoxie athletes qualified for finals in four events, including Hileman's berth in the 100-m hurdles. D.J. Lindsay qualified for the 200-meter dash finals with a fifth-best time of 23:19. The girls 4x400 relay team - Andie Jeannin, Megan Puhr, Christina Rubio and Christy Weller - also qualified for finals with a sixth-best time of 4:06.72. The boys 4x400 team - Austin Stone, Bret Koch, D.J. Lindsay and Jeremy Carlisle - did the same, finishing with a sixth-place time of 3:30.25.
Athletes have to finish in the top seven to medal and the top eight of a prelim to qualify for finals. A few THS athletes came short of medaling or qualifying Friday.
Christina Rubio finished 13th in the girls 400-meter run preliminary.
Roxi Grizzle, who is one of the favorites in a loaded girls javelin event to be held Saturday at 11:30 a.m., finished ninth in the girls shot put.
The boys 4x100 relay team - Bret Koch, Jason Espeland, Jeremy Carlisle and D.J. Lindsay - finished 14th after some trouble on a baton exchange.
Freshman Jake Willis competed in the boys pole vault, but did not place.
Check back with The Mirror's Web site throughout the weekend for updates and photos from Wichita.