Saturday at Wichita: Grizzle wins state championship
Javelin gold one of 14 medals earned by Chieftains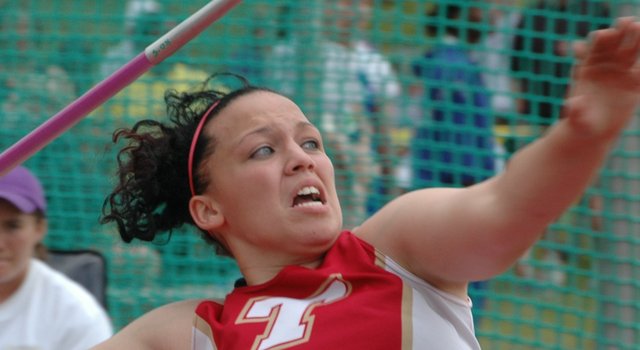 Wichita — Tonganoxie High's track athletes added seven more state medals to their trophy case Saturday evening at Cessna Stadium, bringing their weekend total to 14.
Christy Weller, third, and Andie Jeannin, seventh, both medaled in the girls 800-meter run. Jeremy Carlisle then finished just .48 seconds behind Class 4A 800-meter boys champion Dillon Cowing of Clay Center and received a silver medal.
D.J. Lindsay took seventh place in the boys 200-meter dash and the boys and girls 4x400 teams finished fourth. THS girls Jeannin, Megan Puhr, Christina Rubio and Weller finished the relay race in 4:08.29. Austin Stone, Bret Koch, Lindsay and Carlisle finished with a time of 3:27.77
Earlier in the day senior Roxi Girzzle finished her senior year for Tonganoxie in dominating fashion. She remained unbeaten in the girls javelin this season by winning a state championship and breaking a state meet record with a throw of 165 feet, 5 inches.
Chrissie Jeannin joined Grizzle on the medal podium by finishing sixth in the javelin.
The Chieftains' girls 4x800 relay team -Jeannin, Katie Chenoweth, Puhr and Weller - finished third with a time of 9:57.65.
Tracie Hileman became the first girl in Tonganoxie history to win three individual medals in one season at the state track and field meet in the morning.
The senior Chieftain finished seventh in the 100-meter hurdles final with a time of 15.65 after taking sixth in both the long jump and high jump events on Friday.
In other events Saturday, Tyler Gurss finished 11th in the boys discus, Roni Grizzle finished 11th in the girls javelin, D.J. Lindsay finished with the 12th-best time in boys 100-meter preliminaries (only the top eight qualify for the finals), Abby Eisman took 14th place in the girls pole vault and the boys 4x800 relay team - Jeremy Carlisle, David Powell, Tommy Heskett and Pat Holton - finished 15th. Kendrick Whittington didn't place in the boys high jump.
For more updates and photos from Wichita, check back to The Mirror's Web site throughout the day.