Hurlers prove they can hit, lead
MHS

to third place at state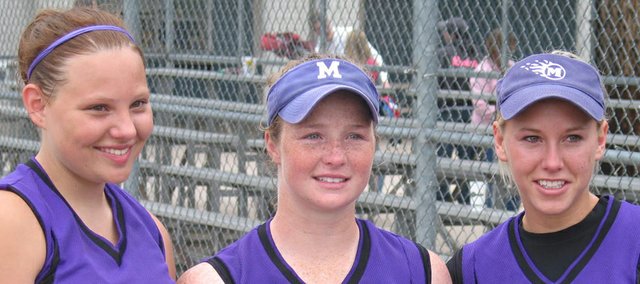 Manhattan — Once again, the pitcher was the hero for McLouth High at the Class 3A state softball tournament in Manhattan.
On Saturday, pitcher Sam Farris struck out 13 Riverton batters in the state consolation game. And she capped her big day by knocking in a game-winning double off RHS sophomore pitcher Haleigh Sills that scored junior Lezley Lawson in the bottom of the eighth for a 1-0, extra-inning victory.
Lawson, in Friday's first-round game, struck out 17 and had an RBI-single for McLouth's other 1-0 victory, which was against Herington-White City.
But Saturday afternoon belonged to Farris. She struck out the side in three different innings. It was a fitting end for Farris, a departing senior.
She will head on to play at Washburn next season, but in her final game in a McLouth uniform, Farris helped MHS to its highest state finish - third place - in the eight-year history of the softball program.
"It feels pretty darn good," Farris said about the victory.
It was a much better emotion than the one the Bulldogs felt after the semifinal game Saturday morning against Thomas More Prep-Marian of Hays.
MHS lost its first game of the year to TMP-Marian, 5-0. The Monarchs went on to defeat Wichita Independent, 2-0, in the championship. TMP-Marian won its second straight state title - last year the Monarchs were 4A champs before moving down a class this year.
MHS coach Ballard Patterson said the state tournament was strange in that McLouth, accustomed to piling up hits and runs, was limited to just two runs in the tournament. But, he noted, that comes with the territory of playing the top teams in the state.
Against TMP-Marian, the Bulldogs reached base just three times - all on walks. Although TMP-Marian junior pitcher Maddie Holub didn't have a perfect game as Lawson did Friday against Herington, Holub struck out nine in a no-hit effort.
Patterson said Holub pitched a strong game for the Monarchs and had his batters "baffled."
However, MHS had to regroup for the second game.
Patterson instilled in his players that it was just another game and it was time to prepare for another contest against Riverton.
Although batters were "baffled" against TMP-Marian, they came through against Riverton.
Farris said when she went to the plate with a chance to end the consolation game in the extra frame, she just cleared her mind.
"Hit the ball," she said about her mindset heading into that final at-bat. "That's all I'm thinking."
As for her mastery on the mound, Farris said "pretty much everything" was working for her.
"I was pretty on," Farris said with a big grin.
Farris is a "great leader," according to Patterson, who mentioned she has earned all-area and all-state accolades.
"She proved it today," her coach said Saturday.
McLouth finished the season at 22-1. Along with Farris, Abby Annis and Stacie Stauch were the only seniors on this year's team.
Patterson said his seniors were a special group, and also noted his eighth-grade girls coming up should contribute in 2009, including talent at pitcher.
"We only had three seniors, so we're young," Patterson said. "We have more pitching in the garage."
McLouth tops Herington in quarterfinals
Friday's Class 3A state quarterfinal game between McLouth High and Herington-White City might as well have been renamed The Lezley Lawson Show.
Think of it in "Saturday Night Live" terms. "SNL" is mostly comedy with a dash of music; Lawson's show primarily was pitching with just enough hitting.
The MHS junior struck out 17 of 21 batters she faced on her way to a perfect game at Twin Oaks Sports Complex in Manhattan. Lawson, who went 2-for-3 from the plate against Railers junior pitcher Crysta Brockmeier, also knocked in what would be the only run of the game in the third. With senior Annis at second, Lawson drove Annis home with a single to left. Lawson's arm held up the rest of the way as McLouth won, 1-0, for the Bulldogs' first state tournament win in school history.
"To a certain extent, you expect that out of a kid like Lulu," Patterson said, referring to Lawson by her nickname and discussing her ability to get the perfect game and hit in the clutch.
No. 2-seed and undefeated McLouth (21-0), accustomed to shutting out opponents by double-digit margins, was happy to win a tight game against Herington (14-10).
Lawson said the team had discussed earlier in the week that close games would be the norm at the state level.
"Manufacturing runs," Lawson said. "If we do score just one, we have to keep our defense up."