No letdown for
THS

track in season finale at state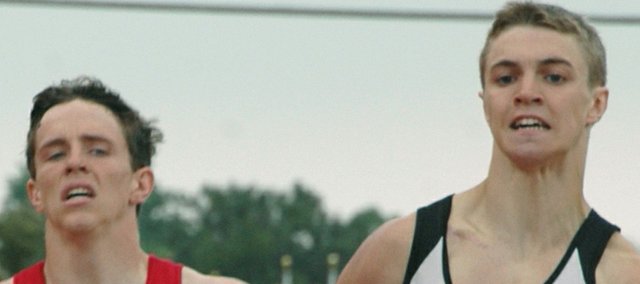 Photo Gallery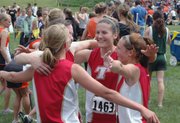 Chieftains at state track and field meet
Wichita — Like a subpar ending to a would-be great movie, occasionally an entertaining, successful build-up can be overshadowed by a dud of a conclusion. But that was not the case for the Chieftains at Cessna Stadium this weekend.
There was no lackluster culmination for this once-in-a-generation team as a remarkable season for Tonganoxie High track, which included boys and girls regional championships a week earlier in Wamego, concluded at the state track and field meet with enough feats and medals to send the Chieftains into the offseason with a sense of accomplishment.
THS brought home 14 Class 4A medals in the final scene of the 2008 season, including a state championship and meet record for Roxi Grizzle in the girls javelin.
While the gold for the senior Grizzle was the only Chieftain state title, a number of her teammates, including her younger sister Roni Grizzle, came close.
Roni finished second in the girls shot put after finishing second to her older sibling at a regional the week before. That had Roni focused for state.
"Yeah, I didn't want her to beat me," the junior said of her sister, who finished 12th in the shot put. "This isn't her main event."
A little sibling rivalry didn't hurt the younger Grizzle as she heaved the shot 42 feet, 8 inches for silver on her final throw of the day.
"I just had to go throw by throw and get the girl in front of me," said Grizzle, who was in fourth prior to her best throw. "In that case I got both the girls on that last throw."
Freshman Jeremy Carlisle became the second THS silver-medal winner and was less than half a second away from gold in the boys 800-meter run. His time of 1:58.6 was just .48 seconds behind Dillon Cowing of Clay Center.
Carlisle said even though he trailed Cowing for the majority of the race, he gave it his all on the final stretch and caught up with him with about 100 meters remaining.
"That last stretch had nothing to do with talent. It was all guts," Carlisle said. "He knew I was right there and it was just a dead sprint to the end and whoever had the most guts got it. He outdid me today."
Carlisle also medaled in the 4x400 relay as he, Austin Stone, Bret Koch and D.J. Lindsay finished fourth. In doing so with a time of 3:27.77 they broke a THS record that had stood since 1973 and was the oldest mark on the Chieftains' record board.
Senior Christy Weller captured bronze twice on Saturday, once as an individual in the girls 800-meter and once as the anchor runner on the 4x800 relay team with Andie Jeannin, Katie Chenoweth and Megan Puhr.
"It's been the cherry on the top of a perfect senior year," Weller said with a laugh, before explaining that the relay success, which included a fourth-place finish in the 4x400 relay with Jeannin, Puhr and Christina Rubio and new school records in both this weekend, was more satisfying because she got to share the podium with her teammates.
The finish in the 4x400 was particularly gratifying because, Weller and her teammates said, Tonganoxie has traditionally been better in the 4x800. But this season they repeatedly set school-record times in the 4x400 and finished fourth in the state.
Said Puhr: "We've just been rockin' it all year."
However, none of the runners, including Jeannin, could pinpoint a reason for the newfound 4x400 prowess.
"I really don't know," the sophomore said. "We just came out one race and we were decent and we dropped a ton of seconds (from that point on)."
Both Jeannin and Weller stepped up on the award podium three times, twice as relay teammate and once as individuals in the 800 (Jeannin finished seventh), but senior Tracie Hileman did the same on three occasions as an individual, becoming the first girl in THS history to do so.
Hileman finished sixth in the girls long jump and high jump events and took seventh in the 100-meter hurdles.
"I'm pretty stoked," she said giddily after wrapping up her THS career with a school record in the hurdles. "It was super-exciting."
"People who aren't in track don't understand how proud you feel and the rush you get just from being in this stadium," Hileman said. "It's one of the greatest experiences ever."
The THS girls finished fourth in the state in team standings, just 1.5 points behind third-place Buhler. The squad also placed fourth last season. The boys, meanwhile, finished tied for 17th with 14 points this year. Last season, THS scored just one point at state.
THS state results - medals awarded to seventh place or better in finals
Tonganoxie girls
Long jump - 6. Tracie Hileman, 16-9.75
100-meter hurdles - 7. Tracie Hileman, 15.65
Triple jump - 8. Tracie Hileman, 34-10.25
400 meters (prelim) 13. Christina Rubio, 1:02.88
Discus - 9. Roni Grizzle, 116-1
High jump - 6. Tracie Hileman, 5-2
4x400 relay - 4. Andie Jeannin, Megan Puhr, Christina Rubio, Christy Weller, 4:08.29
Shot put - 2. Roni Grizzle, 42-8; 12. Roxi Grizzle, 33-4.5
Pole vault - 14. Abby Eisman, 8-6
4x800 relay - 3. Andie Jeannin, Katie Chenoweth, Megan Puhr, Christy Weller, 9:57.65
Javelin - 1. Roxi Grizzle, 165-5 (meet record); 6. Chrissie Jeannin, 130-10; 11. Roni Grizzle, 119-10
800 meters - 3. Christy Weller, 2:21.47; 7. Andie Jeannin, 2:25.98
Tonganoxie boys
Javelin - 7. Gabe Belobrajdic, 167-6
4x100 (prelim) - 14. Bret Koch, Jason Espeland, Jeremy Carlisle, D.J. Lindsay, 46.97
Pole vault - Jake Willis (did not place)
200 meters - 7. D.J. Lindsay, 23.75
4x400 relay - 4. Austin Stone, Bret Koch, D.J. Lindsay, Jeremy Carlisle, 3:27.77
Discus - 11. Tyler Gurss, 138-5
100 meters (prelim) - 12. D.J. Lindsay, 11.57
4x800 relay - 15. Jeremy Carlisle, David Powell, Tommy Heskett, Pat Holton, 8:51.64
High jump - Kendrick Whittington (did not place)
800 meters - 2. Jeremy Carlisle, 1:58.6