School of hard Rox: Grizzle state champ
Senior finishes perfect season by defending javelin championship, setting new record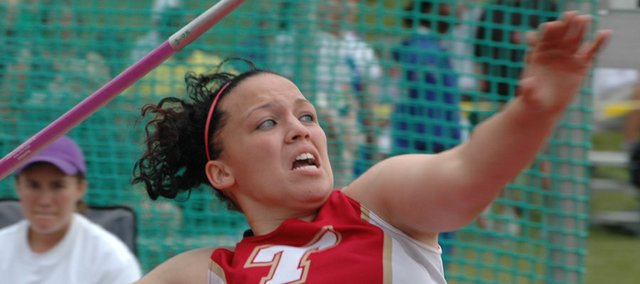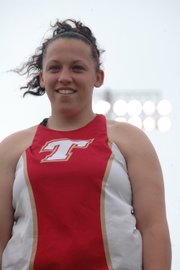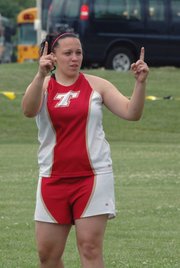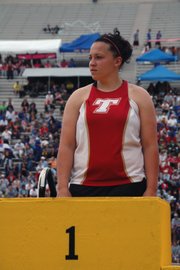 Wichita — When Tonganoxie High senior Roxi Grizzle strolled up to the girls state javelin event on Saturday outside Cessna Stadium, she could have let the pressure of the situation get to her.
Grizzle, admittedly nervous but excited, entered the final athletic event of her Chieftain career as the defending state champion and brought a 2008 undefeated mark with her. Waiting for the No.3-rated javelin thrower in the nation when she arrived were two of the other top four.
If she was feeling an ounce of pressure it vanished on the second throw of Grizzle's qualifying flight when she tapped into her nervous energy, fired her weapon of choice into the overcast sky and watched it land 165 feet, 5 inches away, giving her a state meet record, a gold medal and a perfect senior season.
"It hasn't really come to me yet that those were my last six throws of my high school career," said Grizzle, who will throw for Nebraska next season.
The future Husker went out in style as a Chieftain, defeating Concordia's Heather Bergmann (No. 2 in the country) and Labette County's Katelyn Penner (No. 4).
"I worked really hard to try and get in front of those two," Grizzle said, explaining that she diligently addressed her technique this year at practice and at meets.
That work and some light drizzle, an element of weather that Grizzle said she enjoys while competing, came together in the form of her meet-record throw, but the javelin aficionado didn't realize how far her spear had soared until she was walking out to retrieve it and saw that it was past the 160-foot mark.
As the event officials realized her throw might have bested the previous mark of 164-6 (set by Marysville's Kendra Wecker in 2000), they untwisted the tape carefully to get the most accurate measurement possible. Upon verification of the new record and its announcement to the hundreds of onlookers, Grizzle was showered with applause.
"It was really exciting and I'm really glad that it happened," she said of the whole experience.
Perhaps the most excited person in attendance was THS javelin coach Dave St. Cyr. Grizzle said he's usually a pretty normal guy, but when they got to state he got "a little crazy," adding that the coach gets wrapped up in the excitement of the moment.
That should come as no surprise because the night before he gave Grizzle and teammate Chrissie Jeannin, who finished sixth in the javelin, a card that read: Live in the moment.
"Today was just one of those moments," Grizzle said on Saturday, the final day of her prep career.
"It's really weird to think I'll be competing in college next year," she added after combining with fellow THS girls throwers Jeannin and Roni Grizzle (second in shot put) to score nearly half of the Chieftains' 42 team points at state. "I'm happy that I got to compete with Chrissie and (younger sisters) Roni and Dominique. My mom's really happy. I'm glad that I got to finish this way."