Soldiers' sacrifices remembered
Memorial Day services held in county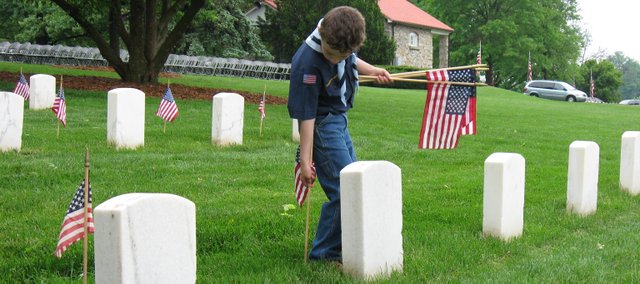 More than 30 local residents were at VFW Park on a muggy Sunday to pay their respects to the many Tonganoxie residents who have lost their lives in duty to their country.
One resident, David Slawson, fainted twice because of the heat and humidity of Sunday afternoon.
"I'm feeling pretty good right now," Slawson said Tuesday. "I think I just got too hot."
Slawson, who was a member of the honor guard, was standing at attention with his weapon during the service when he first fainted. Moments before Slawson fainted, honor guard leader Rick Thompson was going to each honor guard member telling them they could move around if they were getting too warm.
The Tonganoxie Fire Department, Tonganoxie Police Department and the Leavenworth County EMS arrived at the VFW to treat Slawson. After a few minutes in the shade and with a bag of ice on his neck, he was able to regain composure and declined any further medical treatment.
During Sunday's ceremony, Rev. Mark Goldasich of Sacred Heart Catholic Church in Tonganoxie spoke about soldiers' sacrifices for our freedom.
"We love to enjoy the blessings we have, but sometimes we don't look at where those blessings came from," Mark Goldasich said during the service.
VFW member Larry Meadows started the event by telling guests about the sacrifices made by the lost soldiers and how their loss still affects their family.
"Their hearts are still heavy when they look at those names," Meadows said about the memorial pillar. He said they would be adding Lucas Frantz to the memorial in the near future.
Although the crowd wasn't as large as he expected it to be, Meadows said the crowd was larger than last year and he hopes it will continue to grow in the future.
A crowd of visitors gathered Monday on an overcast morning at the Leavenworth National Cemetery to honor, remember and pay their respects to the veterans of the United States military who have served their country.
"Our soldiers, sailors and marines serve rain or shine, and we will continue to honor them rain or shine," 40th District Kansas Rep. Candy Ruff, D-Leavenworth, said during her address at the 122nd annual Memorial Day observance at the national cemetery.
Behind a lectern that bore the inscription, "The glory of their deeds lives," Ruff detailed the history of the cemetery, what, she said, was "once considered the Arlington of the West."
According to Ruff, the cemetery - dedicated in 1862 - was created to give American Civil War veterans who could not afford a proper burial the respect they deserved.
Today it is the resting place for thousands of servicemen and women, including Civil War, Spanish-American War, World War I, World War II, Korean War and Vietnam War veterans.
Ruff boasted that still, "Our Leavenworth community has maintained a great relationship with the VA center and the national cemetery."
Later Ruff, concluded by saying "As we gather here today, I ask you to remember the common bond that connects those who served our county. They are our honored dead and those that have preserved our freedom."
Local service and fraternal organizations presented floral wreaths at the ceremony, and members of the 705th Military Police Battalion Interment & Resettlement, Fort Leavenworth, presented and retired the colors while special guest, "Brass in Blue," a group of active duty musicians stationed at Offutt Air Force Base in southeastern Nebraska, played patriotic hymns.
After Ruff's address, the 500th Military Police Detachment from Fort Leavenworth wowed the crowd with a full, 21-gun national salute.
Taps and a benediction by Chaplain Gary Sanford, a retired colonel in the U.S. Army, ended Monday's ceremony.
Boy Scouts set up ceremony
For more than 200 area Boy Scouts and Cub Scouts that arrived two days prior to Monday's ceremony to decorate the Leavenworth National Cemetery in stars and stripes, it took only an hour to stake approximately 30,000 miniature American flags before each headstone in the military resting place.
The effort, coordinated each year by the Leavenworth National Cemetery Memorial Day Committee, began at 9 a.m., Saturday, when wooden crates loaded with the small American flags were opened and scouts began filing up and down the rows and rows of graves at the national cemetery.
Jeff Meid, commander of Lansing Veterans of Foreign Wars Post 12003 and chairman of the cemetery's Memorial Day committee, said of the annual event, "It's quite an undertaking. It really shows respect for our country's veterans."
The real difficulty, he added, was finding enough hotdogs to feed all the scouts after they were through.
Meid said Cub Scouts throughout Leavenworth County participated in Saturday's event, and he noted, in particular, the coordinated efforts of a group from Platte City that sorted through all 30,000 flags and made needed repairs.
Asked why he participated in the flag-laying Saturday, Devon Hale, a 9-year-old Webelo Scout with Olathe Cub Scout Pack 3777, said, "To honor the people that died trying to protect our country's freedom."