States of chamber, city, county and state addressed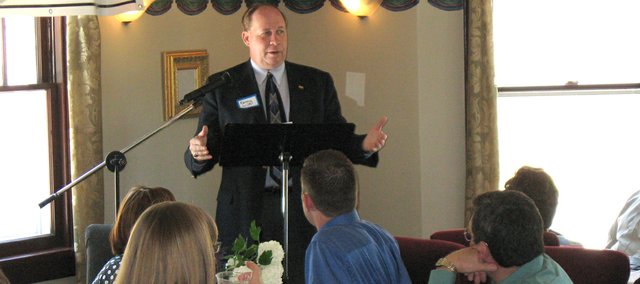 City, county and state officials updated members of the Tonganoxie Chamber of Commerce on happenings in their constituencies at the "state of the chamber" meeting Tuesday, May 20.
President Steve Christensen began the luncheon, held at Amanna Elan Bed and Breakfast Inn, with a "state of the chamber" address.
Christensen mainly focused on the benefits of being a chamber member and mentioned the volunteer, retail recruitment and development organization's involvement in Tonganoxie activities such as the St. Patrick's Day parade, the city's annual garage sale, the mayor's Christmas tree lighting and Tonganoxie Days - coming June 14.
"We work very hard every day to promote businesses in our city," he said.
State of the city
Mayor Mike Vestal and city administrator Mike Yanez offered "state of the city" addresses, each touching on the Tonganoxie City Council's 3-2 decision May 19 to contribute $1.5 million in special sales tax revenue to County Road 1 improvements.
Yanez commended the city council for "saying yes to one of the most significant economic development projects that's come this direction."
"I applaud the city council for taking that position, because it's an investment not so much in our present day but for future generations," he said.
Both Vestal and Yanez reminded chamber members, too, about the grand opening of the new Tonganoxie swimming pool June 14 in conjunction with Tonganoxie Days festivities.
"I'm very excited about that pool being open and kids having a place to swim," Vestal said.
"It's a great time to be mayor of Tonganoxie."
State of the county
County Commission chairman Clyde Graeber was responsible for updating members on county goings-on.
The 2nd District commissioner began by congratulating Tonganoxie and Basehor for being "the fifth and sixth fastest growing communities in the state," respectively, but he said, the county has "many challenges facing us" in the coming year, including rising fuel and health care costs and various capital improvement projects.
Graeber noted a county jail expansion and work on a new emergency medical services station as large-scale projects taking place in the county.
He said commissioners may finalize a comprehensive land use plan for the county, what he called "a road map for the future development as to where the county should grow, where we can grow comfortably, how close we are to metropolitan communities and how we can take advantage of roads already there," in June.
Graeber also said a planned communications system upgrade that would "provide direct communication between all (emergency service providers in the county)" is in the works and is targeted to cost over $12 million in the county's portion of special sales tax revenue.
Lastly, he said the Kansas Turnpike Authority recently approved a construction bid from Perry-based Hamm Inc. for the County Road 1 and Kansas Turnpike interchange project, which Graeber said, is "probably the most controversial thing I've ever been involved in."
The county's portion of the $16.7 million project is $10.255 million, Graeber said, minus the $1.5 million contribution from Tonganoxie and the possible procurement of additional U.S. Highway 24-40 Corridor Management funding from the Kansas Department of Transportation.
State of the state
In his "state of the state" address, 42nd District state Rep. Kenny Wilk, R-Lansing, thanked Tonganoxie chamber members and residents for their support during his past 16 years in office and reviewed the state's past legislative session.
"Some of my key support when I first ran 16 years ago came from Tonganoxie, Kansas, and I have thoroughly enjoyed this community," Wilk said. ": It's been a real privilege."
Wilk commended Kansas Gov. Kathleen Sebelius for signing into law House Bill 2617, or "Amanda's Law," on May 18. The bill will increase drug testing at the scene of injury or fatality accidents.
"The Bixbys were absolutely tireless in that endeavor," Wilk said of Tonganoxie residents Dennis and Denise Bixby, who pushed for the legislation after their daughter, Amanda Bixby was killed in a three-vehicle accident Feb. 14, 2007, near Basehor.
He also briefly discussed health care, energy policy and immigration, the three concerns Wilk referred to as the "top domestic issues in the United States today," and the issues that received "95 percent" of the state Legislature's focus this session.
He said the state made incremental progress in regard to health care by requiring insurance companies to offer more products to consumers in Kansas with pre-tax dollars.
One of the most talked about issues on the state level this year has been energy policy and a proposed coal-fired power plant in Holcomb.
Wilk, a strong supporter of allowing the Holcomb expansion, said there will be tremendous consequences if the decision by Kansas Department of Health and Environment Secretary Rod Brimby last year to deny an air-quality permit for the $3.5 billion expansion is not overturned.
He added, though, that "Kansas and the Kansas Legislature is light years ahead of most of the rest of the nation in regard to that (energy) policy because of the very strenuous debate that we went through this year."
Finally, in regard to immigration, he said state representatives spent "quite a bit of time" discussing the subject but were unable to take any positive action.
"That's a very complex, very difficult issue," Wilk said.