Tonganoxie man earns prestigious aviation mechanic award at
KCI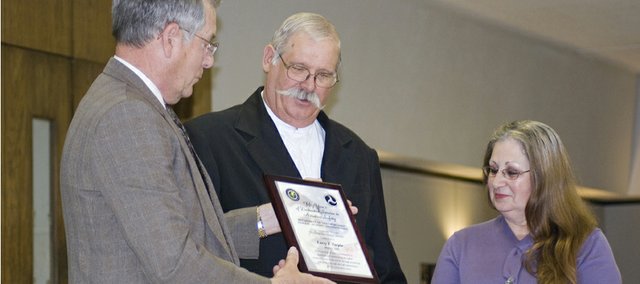 Dressed in early 20th century clothing, Larry Turpin stepped up to the front of the crowd to give a speech after being given the Charles E. Taylor Master Mechanic Award.
He explained to an audience filled with his friends and co-workers at the American Airlines repair hanger at the Kansas City International Airport that he chose to dress that way to pay his respects to Taylor. Taylor is credited by the Federal Aviation Administration as being the first aviation mechanic in powered flight and credits him for designing and building the engine for the Wright brothers.
"I was going to get a derby hat online, but I wasn't sure if it was going to make it in time," he said later.
On Thursday, the 50-year aviation mechanic received the award that honors life-long mechanics for aviation safety.
To be eligible for the award a candidate must have at least 50 years in aviation maintenance as an accredited mechanic and be an FAA certified mechanic for a minimum of 30 years.
Turpin began his 50-year career when he first enlisted in to the United States Air Force Technical School at Sheppard Air Force Base in 1958 at the age of 18.
After his work at the Air Force he was a fleet service helper for TWA in 1962 and in 1963 he began working for TWA as an aircraft mechanic. In 1982, Turpin was promoted to Airframe and Power Plant Inspection Department for TWA and continues the same work for American Airlines.
"You've made this award something special that I will remember for the rest of my life," Turpin said. "It's quite an honor. I'm very humbled by it."
Turpin was also given a 45-year service pin by Rick Tasetano, Vice President of the Transportation Workers Union Local 530.
Giving the keynote speech at the ceremony was Mary Feik, who has had an accomplished career as an aviation engineer for the United States military since World War II. She spoke on how aviation has changed over the years and what her experience was like working in a profession dominated by men. Feik was also the first woman to receive the Charles M. Taylor award.
Turpin's wife Jeanne said she was thrilled about her husband's accomplishment.
"He has really been looking forward to it," she said. "I am glad he made it."
Afterward a line of people from the audience formed to congratulate Turpin.