Chieftains stumble out of gate, lose by 36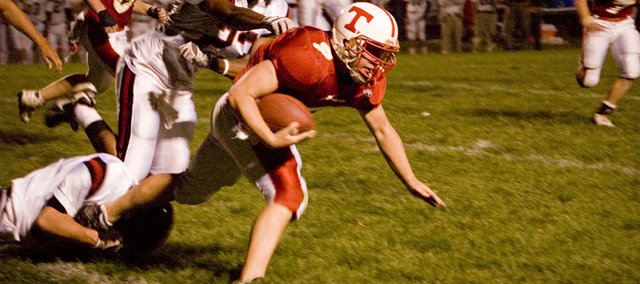 In the days leading up to Tonganoxie High's regular-season finale against Bishop Ward, folks who ran into Chieftains football coach Mark Elston were asking him: What are the keys to the game?
He told them THS needed to get a couple of first downs on its first possession and not let the Cyclones complete any deep passes that would give the visitors more confidence.
When the district contest kicked off on Thursday night at Beatty Field, Elston was proven right. Tonganoxie didn't pick up a first down in the first half, BWHS quarterback Beau Stoker threw three touchdown passes — including a 57-yard bomb in the first quarter that opened the floodgates — and Ward waxed the Chieftains, 48-12, ending the THS season.
Things really couldn't have gone much worse for Tonganoxie (5-4 overall, 1-2 district, 2-3 Kaw Valley League) in the first half. While Ward (6-3, 3-0, 5-3) scored touchdowns on five of its possessions and missed a 50-yard field goal on another, Tonganoxie went three-and-out three times, turned the ball over twice and had the clock run out on its final possession before halftime.
Afterward, Elston said Ward "hit us in the mouth pretty hard and we didn't respond," adding that although his team looked loose and focused in pre-game warm-ups, the Chieftains were outplayed once the game started.
"They wanted it far more than we did, in my opinion, and they just whipped us," the coach said. "They came ready to play and we weren't ready to go for whatever reason."
A 34-0 Ward lead at the half grew to 48-0 in the fourth quarter before a couple of THS underclassmen scored touchdowns in mop-up duty. Sophomore THS running back Shawn Marin ran 78 yards for a score with 7:10 to go, and freshman quarterback Brady Waldeier ran in another THS score with 2:24 remaining.
It wasn't until the final quarter, with the backups in the game, that the Chieftains' offense got moving. THS gained 152 of its 197 yards from scrimmage in that quarter thanks primarily to Marin (115 yards rushing) and Waldeier (36 yards rushing).
Elston said the play of those two and the other Chieftains who took the field with the game already decided was one of the night's few bright spots.
"They didn't let the prior part of the game affect their play," Elston said.
Offensive production was much tougher to come by early on for THS. The Chieftains had just 10 yards of offense at the half.
Sophomore running back Jeremy Carlisle said Ward's larger defense made it difficult to move the ball.
"They just have a really good rush defense," Carlisle said. "We had trouble running the ball on them, and that's been our primary strength this year."
Senior quarterback Zack Robinson (seven carries, 34 yards) echoed that assessment, adding that Ward's stunting defensive line schemes made it difficult to have proper blocking assignments at times. He said playing from behind made things even worse.
"It's real hard," Robinson said. "They were good, they were big, and we couldn't run too much."
Elston said the Chieftains would have liked to be "far more competitive in the last ball game," but said, after going 1-8 in 2007, "the kids responded well" in 2008 as they finished with a winning record.
SCORE BY QUARTERS
BWHS 21 13 7 7 — 48
THS 0 0 0 12 — 12
HOW THEY SCORED
FIRST QUARTER
(8:19) John Waggoner, BWHS, 11 pass from Beau Stoker. Stoker kick. (Bishop Ward 7, Tonganoxie 0).
(5:24) Jeff Keller, BWHS, 57 pass from Stoker. Stoker kick. (Bishop Ward 14, Tonganoxie 0).
(1:21) Cole Muder, BWHS, 1 run. Stoker kick. (Bishop Ward 21, Tonganoxie 0).
SECOND QUARTER
(9:52) Zach Mann, BWHS, 18 pass from Stoker. Stoker kick. (Bishop Ward 28, Tonganoxie 0).
(0:11) Alex Orel, BWHS, 7 run. Alex Mills kick failed. (Bishop Ward 34, Tonganoxie 0).
THIRD QUARTER
(9:20) Muder, BWHS, 74 run. Stoker kick. (Bishop Ward 41, Tonganoxie 0).
FOURTH QUARTER
(7:37) Austin Kochsmeier, BWHS, 40 run. Stoker kick. (Bishop Ward 48, Tonganoxie 0).
(7:26) Shawn Marin, THS, 78 run. Conversion failed. (Bishop Ward 48, Tonganoxie 6).
(2:24) Brady Waldeier, THS, 11 run. Conversion failed. (Bishop Ward 48, Tonganoxie 12).
RUSHING
THS: Shawn Marin 5-115, Brady Waldeier 4-36, Zack Robinson 7-24, Jeremie Maus 5-13, Dylan Scates 1-12, Austen Holloway 4-8, Jason Espeland 2-4, Ian McClellan 1-2, Jeremy Wagner 1-minus-7, Jeremy Carlisle 4-minus-10.
PASSING
THS: Robinson 1-6-0 interception.
RECEIVING
THS: Carlisle 1-0.
Class 4A District 2
Standings
1. Bishop Ward, 3-0
2. Basehor-Linwood, 2-1
3. Tonganoxie, 1-2
4. Piper, 0-3
Results
BLHS 38, THS 15
THS 29, PHS 26
BWHS 48, THS 12
BWHS 21, PHS 14
BWHS 30, BLHS 6
BLHS 7, PHS 0