Staying true blue for 60 years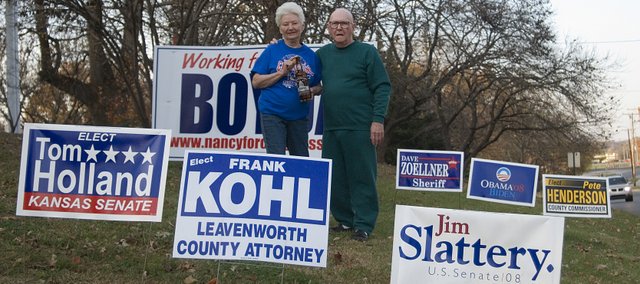 During Tuesday night's election, you could find Jack Wolfe sitting on his recliner with his wife, Jackie, next to him as they watched for the presidential election results.
But if you wanted to know who they voted for, you simply needed to look at the array of political signs in front of their house that favor Democratic candidates.
"Back home they used to call me a red-dog Democrat because I would vote for a red dog before I would vote for a Republican," Jack said the night before the election.
Since they could first vote, the Wolfes have been casting their votes for elected officials with a "D" next to each name. For Jack, his first vote was for Harry S. Truman in 1948. For Jackie, her first vote was for Adlai Stevenson in 1956.
"I didn't know too much back then, but I knew I was a Democrat and I was going to be a Democrat," Jack said.
Now the 81-year-old Jack and the 76-year-old Jackie have cast their votes for Barack Obama, who could be the nation's first black president, something Jack said he never thought he'd see in his lifetime.
Jack and Jackie have been watching the race closely ever since it started. They started out as Hillary Clinton supporters, but had no hard feelings when Obama won the nomination.
"I would say that John Kennedy was the last one that inspired me as much as Obama has," Jackie said.
As much as the couple love and support their Democratic candidate for president, you won't find his sign in their yard because every time they put one up, it is stolen.
"They don't bother to take the rest of them, but they take the Obama sign," Jack said.
Jackie said she wasn't sure if people were keeping them as a memento or just destroying them. They didn't want to take a chance with their last sign, so they were keeping it indoors.
Jack and Jackie were both optimistic about the outcome of Tuesday's election, even after the outcomes of the 2000 and 2004 elections when George W. Bush won. Jack said Monday this year would be different and he expected Obama to win with more than 300 electoral votes.