Tonganoxie Elementary School third-graders declare Obama their president
George Strait receives write-in vote; fourth-graders like McCain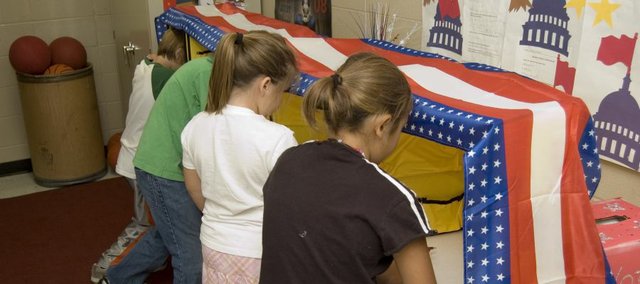 It's official: Barack Obama is the candidate of choice for third-graders at Tonganoxie Elementary School.
In a mock election that included teachers requiring students to take part in voter registration, 68 third-graders voted for Obama, while 59 selected John McCain. Third-grade teacher Karen Stockman said the election was a tie before the last class pushed Obama over the top.
One student wrote in country music singer George Strait for president.
Stockman said the fourth-grade also held an election, and that students selected McCain by a large margin at that grade level.
Students also marched through downtown Tonganoxie Tuesday afternoon yelling "G-E-T, Get Out And Vote."
In the third grade, a few students asked why they selected Obama or McCain. Many of the handful interviewed said they voted the same way their parents did.