Tonganoxie's seven seniors lead turn-around season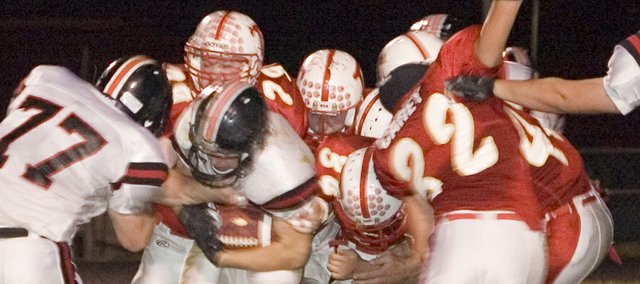 It wasn't the way Senior Night was supposed to go down.
A 48-12, season-ending loss at home to Bishop Ward was the last thing Tonganoxie High's small class of football seniors — Boomer Carey, James Edwards, Jamie Everett, Clint Kissinger, Shawn Roberts, Zack Robinson and Billy Seymour — wanted on Thursday night.
As the Cyclones poured it on, and the game grew more and more out of reach, Carey, a linebacker, had a surreal on-field experience.
"Everything you've ever done flashes in your head," he said on his final night in a Chieftains uniform, comparing the instant replay of his football career that played in his mind's eye with how some people have described near-death experiences.
From weight-lifting to tackling drills, early mornings to late nights, wins and losses, Carey saw his football life flash before his eyes in the disappointing loss.
Football can seem like life and death in the heat of the moment. However, years from now when Tonganoxie's 2008 seniors look back on their final season, they won't only remember the way it ended, but they also will remember the season as a whole and all that was accomplished.
A year after Tonganoxie went 1-8, and attitudes of indifference plagued the roster, the Chieftains finished 5-4 in 2008 thanks to a small-scale senior class of seven that made a big impact.
Robinson said this season the seniors made a point to help out the younger players and treat them as equals, which contrasted with how the team dynamic worked last year.
"No offense to the senior class above us," Robinson said, "but there was only two or three people that really cared and tried to help out."
The quarterback, who also played on defense and special teams for THS, said the '08 seniors made a point not to haze or bully younger players, and to show them the ropes. He thinks that approach will remain a mainstay as this year's underclassmen move up.
Carey said the seniors' ability to communicate and gain their teammates' trust made them effective leaders, even if they weren't necessarily the team's most talented players.
"We don't have the advantages of super speed, super height, super weight," he said. "We have to use what we have, which is our mouths."
Their verbal approach worked perfectly according to sophomore running back Jeremy Carlisle, who started at quarterback last season but had no problem handing over the reigns to Robinson this season.
"They've always been there for us," Carlisle said of the seven seniors. "It's the best senior class I've ever seen — personality-wise and leadership-wise."
Although Tonganoxie's schedule wasn't as difficult this season as it was in 2007, Carey said he was proud that a team with seven seniors could rebound from a one-win campaign even though, he added, last year's team probably had more talent.
"We just came back and played like a band of brothers," Carey said.
While Carey still hopes to play in college, the playing days of the other seniors likely ended on Thursday. It wasn't the most talented class he had seen, but THS coach Mark Elston said this year's seniors had the right attitude.
"I thought our seven seniors played their hearts out," Elston said. "We weren't blessed with a lot of size, so we had to overcome that by just playing with a lot of heart and a lot of fight."
The spirit of this year's class was summed up as Robinson left the locker room after a 36-point loss on Senior Night with a terrible feeling in his stomach.
Even in defeat, the gritty quarterback held his head high and said: "It's still a great day to be a Chieftain."