Youth served: Tonganoxie players get crash course in volleyball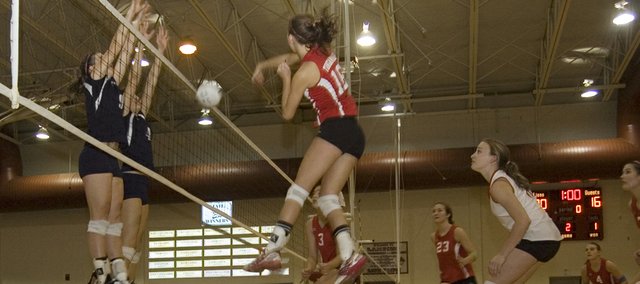 There is no substitute for experience.
Co-coaches Brandon and Tiffany Parker could describe it in detail at length, but for the most part, Tonganoxie High's volleyball team never had experienced anything like sub-state.
Other than four-year mainstay Chrissie Jeannin, the 2008 Chieftains had never played at that level with so much on the line.
And telling them about it beforehand, Brandon Parker said, probably didn't do much good.
"You can tell me how to repair an engine," he said, "but I don't know how to do it."
With 10 of their 11 players going through their first sub-state at Eudora on Oct. 25 when THS lost in the semifinals, perhaps the Chieftains were in over their heads. But now that they have been immersed in postseason play, the team's eight returning players expect things to go quite differently next time around.
After losing to host Eudora in a Class 4A sub-state semifinal, sophomore Molly O'Hagan now has a reference point and experience on which to rely. The next time she is in the same situation, she will know how to respond.
"I was kind of freaking out a little bit," O'Hagan recalled of her on-court nerves during her first sub-state tournament.
Now O'Hagan, who led THS in solo blocks (66) and kills (244) this year, knows how to calm herself down.
"I just have to talk to myself and say nice, peaceful things," she said.
Junior Abby Eisman, who, along with Maggie Franiuk, will be one of two THS seniors next season, said she now understands how to tune out distractions.
"The crowd was really intense," Eisman said, noting that players have to ignore the chaos going on in the bleachers just feet away from the action. "You can't let that get to you, you just have to zone in to the court and play your game."
Sophomore Danielle Miller, who played on the freshman team the previous year, said she learned a lot about the intensity of the postseason at her first sub-state.
"When it comes down to that point, everybody wants it," said Miller, who led the team in service aces and total serves this year. "They're all playing their best; it's not like the regular season. You feel the pressure and intensity."
Eisman, who had 211 digs and 193 kills this season, played junior varsity in 2007, and said varsity is completely different, and the lessons the newbies learned this season will pay off in 2009.
"Getting experience this year, especially at sub-state, I think we'll want it more next year," the junior said. "We'll be able to play more aggressive because we're used to the speed of the varsity level now."
While Jeannin was the only player with significant varsity experience heading into this season, the Chieftains will have eight returning players next season. Along with Eisman, O'Hagan and Miller, THS will return freshmen Shyanne Gergick, Megan Hummelgaard, Brooklyn Kerbaugh and Haley Smith, as well as junior Franiuk from a team that went 26-15 with a tough schedule.
Parker said he hopes the team learns a lot of valuable lessons from the experience it gained this year.
"I hope it drives them to become better," he said.
O'Hagan said she learned to rely on her teammates.
"Team bonding this year was a big thing because we all needed each other," said the sophomore, who finished with 211 digs. "I know if I didn't have my team, I wouldn't be successful at all."
A few days after the 2008 season ended, O'Hagan said a new standard for next season has already been set. She and Eisman have discussed the way this year ended, and they want to make sure it doesn't happen again.
"That feeling of getting so close and not making it, we don't want that," she said. "Next year, we have that experience, and we're going to go after it."
More like this story