From memorial rock to high school courtyard
Idea to honor fallen soldier evolves into all-encompassing Chieftain Remembrance Walk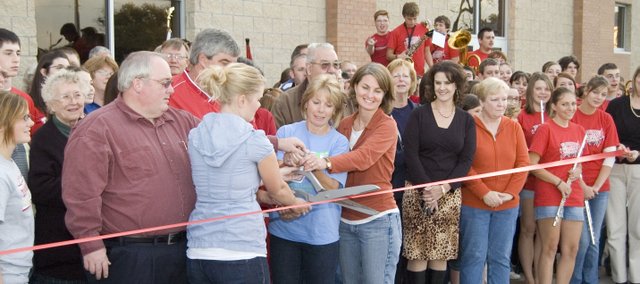 What started as a small memorial to a fallen soldier has grown into a new courtyard for Tonganoxie.
A dedication was held Thursday for the Chieftain Remembrance Walk, which was inspired by Army Pfc. Lucas Frantz, a Tonganoxie High School graduate who was killed in 2005 — on his 22nd birthday — while serving in Iraq.
Initially, his widow, Kelly Frantz, wanted a rock to serve as a memorial for him. But today, his memory serves as an anchor for the courtyard, which honors living and deceased members of the community.
Early plans for the courtyard called for it to be built northwest of the THS fieldhouse at Beatty Field. But as plans for another project — the THS Point of Pride entrance to Beatty Field — materialized, school officials decided it would be better to have each project at different sites.
Complete with large square planters built into the courtyard and benches situated within the venue, the Chieftain Remembrance Walk opened to the public Thursday.
The Tonganoxie High School band performed the Star-Spangled Banner at the start of the ceremony before THS principal Jamie Carlisle and Superintendent Richard Erickson spoke glowingly about the project.
Kelly Frantz and her mother-in-law, Pam Jeannin, who spearheaded the project, also spoke to the crowd of roughly 125 people.
After the event, C.J. McDaniel, who offered his time to the project, estimated that 200 volunteer hours were spent by people in the community to complete the courtyard.
"It feels good; it feels really good," McDaniel said. "All the volunteering is what makes it happen. All the volunteers."
A long list of businesses donated materials and time to the project, which is a testament to the community, McDaniel noted.
He said the most impressive aspect of the project was "just seeing how the town pulls together when they have to, or when they're asked to."
Jeannin agreed.
"We have had so many people come on board and supported it, and that means so much that so many people realize what it's about," she said. "They understand what it's about. It's about our community and a place to come, to relax, to enjoy, to visit and reminisce."
Jeannin and Kelly Frantz agreed that it was an emotional night. A plaque serves as a reminder that Lucas Frantz was the inspiration for the Chieftain Remembrance Walk. They also emphasized that the courtyard should serve as a place of joy where people may gather.
Now, just more than three years after her husband's death, Kelly Frantz has seen the community together once again — just as it did when he lost his life serving in Iraq.
"I think it's kind of a journey for me to see this happen," she said.
Although the courtyard has been completed, plenty of blank bricks may be purchased. After a group of engraved bricks have been ordered, they will be installed to replace blank bricks that complete the memorial in designated areas.
For more about the courtyard, log on at www.chieftainwalk.org.