Veterans Day Parade is Tuesday in Leavenworth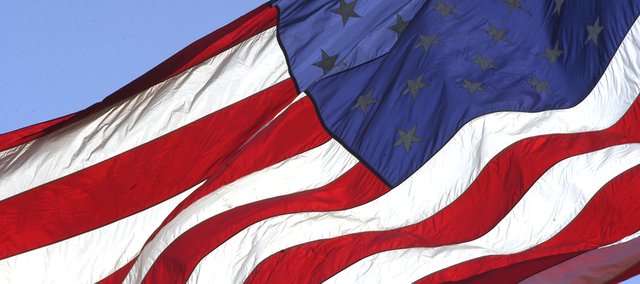 The nation's oldest regional Veterans Day observance will be held at 10:30 a.m. Tuesday in downtown Leavenworth, starting at Fourth and Cherokee streets.
Grand marshal for the event is Charles Gregor.
Because of the Delaware Streetscape Project, the line of march is being re-routed from Delaware to Shawnee east at Fourth and Cherokee to Esplanade, north on Esplanade to Shawnee, west on Shawnee to Seventh Street and south on Seventh to Cherokee. Because of the Three Mile Project, the parade will disband at Seventh and Cherokee.
No parking will be allowed along the parade route (Cherokee, Esplanade, Shawnee and Seventh Street). The American Legion Riders (Patriot Guard) will line both sides of the parade route to assist with crowd control. The line of parade will start with bagpiper Dale Clelland and the 705th Military Police Battalion Color Guard of Fort Leavenworth. The parade will stop at 11 a.m. for taps with flyover from the Iowa National Guard immediately after. A Blackhawk UH-60 will do a second flyover at noon in honor of the day. An enlistment ceremony conducted by the KC MEPS will take place in front of the reviewing stand after flyover.
Monetary awards will be given for best floats in first-, second- and third-place categories. Floats will be judged on the parade theme, "Home of the Free, Because of the Brave." Judging will be done by representatives from Community National Bank, Basehor; First State Bank and Trust, Tonganoxie; and The Citizens Bank of Lansing.
As always, the parade is dedicated to the many veterans and active duty servicemen and women who were and are still engaged in conflicts around the world. A "Returning Hero" float will consist of veterans and active servicemen and women who have returned from areas of conflicts.