A Matt of all trades
Titterington finds a way to balance prep activities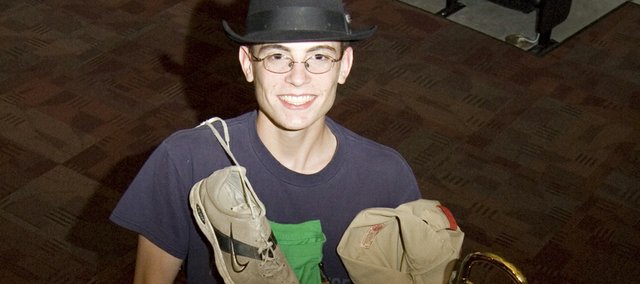 Apparently his legs just don't tire that easily.
With the countless miles those limbs have run this fall for his school's cross country and soccer teams, one would assume Matt Titterington would be worn down.
Throw in his significant chunk of other responsibilities — band (jazz, marching and pep), choir, science Olympiad, church, 4-H and Boy Scouts to name a few — and you would think the weight of his schedule would be crippling.
Not so.
After a full season of competing as a two-sport athlete for Tonganoxie High while balancing countless other extracurricular activities, the junior's legs never buckled under the pressure — not even on occasions when the THS athletics schedule called for him to represent the Chieftains at a cross country race and a soccer match on the same day, which happened three times.
"Energy-wise, it doesn't take that much of a toll because the long-distance running, I usually recover pretty easily from," Titterington said of competing for both teams on the same date. "And soccer, I'm already constantly running."
Once this season, Titterington had the luxury of taking on both of his athletic endeavors at home, but that rarely was the case. The feat usually required him to hit the road in the family van. As he traveled, having already exerted a lot of physical energy on a cross country course, he knew there was just more to come on the soccer pitch when he arrived. Instead of focusing on that, though, Titterington simply changed his uniform, relaxed, grabbed a bite for energy, drank some Gatorade and waited to reach his destination before turning his mental focus over to soccer.
Delicate balance
Finding a balance between the two sports is something Titterington has had practice with — he has participated in both each of his three years at THS. But he knew going into his freshman year that it wasn't something to take lightly. A soccer player since 6 who never had run cross country before his freshman year, Titterington approached cross country coach Phil Williams and soccer coach Ken Lott beforehand to get their approval, which they granted.
The coaches praised Titterington for his dedication to both teams, a difficult task.
"He is the type of kid who can be depended on to be fair to both programs without the coach having to worry too much about it," Williams said. "I know Matt will be with us as much as he can, and I think the same is true for soccer. Not all athletes would have the maturity to handle it as well as he has."
Added Lott: "Matt probably didn't play as much soccer as he did in the past because of his competitive teammates, but I could put Matt in at any position, except maybe goalkeeper, and he would give me all he had left in the tank."
Two sports better than one?
Looking back at the fall sports season, Titterington had a few highlights. He finished third at the Rim Rock Blue JV race with a time of 19 minutes, 36 seconds in the 5K, was seventh at the Kaw Valley League JV race with a personal season-best time of 19:05 and scored a goal for the Chieftains. But if there is a downside to competing in multiple sports at once, it is the knowledge that he likely would be much better at a single sport if he chose just one. In soccer, he wasn't getting his touches down. With cross country, instead of his times improving, they stayed the same.
"It wasn't bad, but I could have been doing better if I'd only been doing one sport," Titterington said, adding that another obstacle was mental fatigue away from athletics.
Both Lott and Williams agreed that if the junior focused on one sport, he would improve greatly. Williams said by alternating practices and competitions with two sports, Titterington could have been subject to more injuries and, for the good of the athlete, he was not in favor of students taking on two sports at once.
"That is a recipe for having your body break down," Williams said.
Full plate
Titterington might be the exception to the rule. He seems to thrive with more on his plate. This past Thursday, he had rehearsal for "Bye Bye Birdie" — a musical THS is putting on in which he plays a reporter and sings in the backup choir — after school. Then he went home, changed and came back for a jazz band concert that evening. On Saturday he was at a choir competition, belting out tenor for the Chieftain Singers.
"It gets kind of hectic," he admitted.
But Titterington is getting the most of his THS journey, dabbling in all the things that interest him.
"It's nice to be able to get the different aspects of sports and school," he said. "There's some people who just focus on one thing, which is OK, but I'd rather see what the other things are, then choose what I like best."
He even won grand champion at the Leavenworth County Fair in the open, under-18 cooking category for a Yugoslavian coffee cake.
So when does he relax?
"Sundays, other than church (where he is an active member of West Haven Baptist), I don't do anything," Titterington said.
It is truly a day of rest for him as he passes his rare spare time at home by reading, watching a movie or playing Xbox 360 — nothing strenuous or taxing.
But every Monday, Titterington hops back up on his two industrious legs and gets back to his busy schedule, never wobbling, always steady.