Service continues after tour in Iraq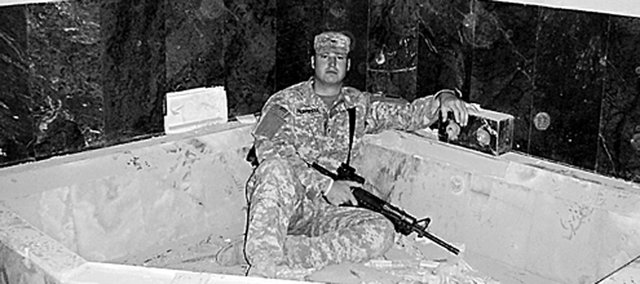 Baldwin — What Sgt. Tyler Trowbridge remembers most about his year in Iraq are the people.
"I'd have to say the bonds I formed with the guys I was with there," said Trowbridge, a 2002 graduate of Baldwin High School who lives in Baldwin City. "That and interacting and learning about the people over there. It gives you a different perspective from those in America and how people in other countries live."
Trowbridge is a member of the Kansas National Guard Army 2/137 infantry division based out of Lawrence. He served in Iraq from November of 2005 to November of 2006. His company of more than 200 provided security.
"There were multiple jobs we did," he said. "The first four months was tower guard service and then we were QRF (Quick Reaction Force). We were security for Camp Slayer attached to Camp Victory in Baghdad and did patrols."
It sounds like action and it was. On one of those patrols, improvised explosive device detonated and hit one of the Humvees. Fortunately, no one was killed and the extent of the injuries was mostly eardrum damage.
Upon his return to the United States, there were adjustments to be made.
"It was different," said Trowbridge. "You definitely had to adjust to the time zone. It was different that I didn't have to wake up and work all day. Basically, I'd wake up, go shave and go to work. I'd come back, call home and go to bed.
"Back here it was difficult at first to slow down and not be on the go all the time," he said.
He's not complaining about being in Iraq, other than lost time.
"Oh, it was very good to be back," said Trowbridge. "Another thing I felt, not so much with my family or my fiancée at the time, but with my friends I felt like I'd lost contact with them for a year and what they were doing."
Since he's been back, he's returned to school at Johnson County Community College and has plans to go on to the Kansas University business school. But that's in limbo because his company could be called back to active duty in the spring before he's discharged in June.
"Right now I'm not too sure," he said. "You hear different things all the time, so you don't know when you could be going. It's frustrating to not know about school, and I'm 25 years old and most of my friends have graduated and gotten jobs.
"I understood that when I signed up that I could miss out on those things," said Trowbridge.
Although he's not overseas, he's still serving. When the hurricane season came to the Gulf Coast again in September, his company was sent to Louisiana to help with cleanup. It's part of not knowing what's next.
"It's like Louisiana when we went down there," said Trowbridge. "I was dove hunting with my dad when I got a text message saying, 'you need to be in Lawrence tomorrow to go to Louisiana.'"
He was there two weeks.
"I was in school, and it's tough to get caught back up," he said.