Tonganoxie football improves, goes 5-4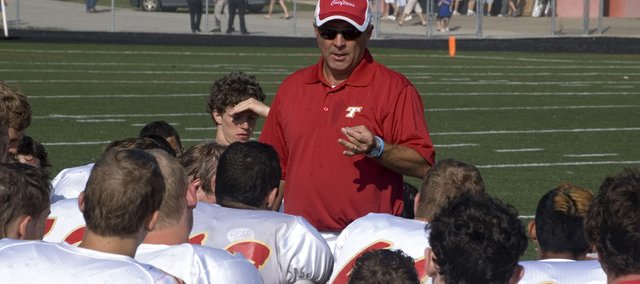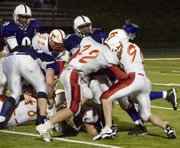 If Tonganoxie football returns to glory in the near future, this season might prove to be the turning point.
The nine-week marathon that was Tonganoxie High's 2008 season didn't end in spectacular fashion, but the Chieftains notched four more wins this year than they did last season, going 5-4 with a 2-3 Kaw Valley League record and a 1-2 district mark.
Although THS didn't qualify for the postseason, the regular season had plenty of highlights. What follows is a recap of plays and players that made Tonganoxie's run a memorable one.
Prairie View, W, 14-7
The Chieftains opened their season with a homecoming victory against the Buffalos. Scoreless at the half, THS took momentum when sophomore Jeremy Carlisle returned the opening kickoff of the second half 75 yards for a touchdown. Junior THS running back Austen Holloway scored the first offensive touchdown of the season with 8:03 remaining on a 10-yard run that broke a 7-7 tie.
At Osawatomie, W, 23-6
Tonganoxie never trailed and answered Osawatomie's lone score in the fourth quarter with a 12-play, 7:19 drive that Holloway finished with a 27-yard rushing touchdown, his second score of the game. THS amassed 347 rushing yards, improving to 2-0. THS senior quarterback Zack Robinson led the charge with 139 yards (a season-high for THS) and a touchdown on 15 carries.
At Perry-Lecompton, L, 56-7
In their KVL opener, the Chieftains were drubbed as Kaws senior quarterback Shane Gimzo accounted for five of eight PLHS touchdowns. Down 14-0 in the first quarter, Tonganoxie's only score came when Carlisle housed his second kickoff return of the season with a 95-yard score, and THS fell to 2-1.
Wyandotte, W, 34-8
THS bounced back from its 49-point defeat the previous week with a 26-point home victory to improve to 3-1. Junior THS running back D.J. Lindsay ran for a 47-yard touchdown on the first play from scrimmage as Tonganoxie cruised. Robinson ran for three touchdowns and 70 yards. Junior Richie Ridihalgh and senior James Edwards each recovered a fumble.
At Santa Fe Trail, W, 28-21, 2OT
In the most exciting game of the season, the Chieftains got their first KVL victory and improved to 4-1. Carlisle scored three of Tonganoxie's four touchdowns, including an 83-yard kickoff return and the deciding score in the second OT. The sophomore then sealed the win with an interception on the last play of the game. Robinson got his first and only passing touchdown of the season on a 65-yard strike to Lindsay on the final play of the first quarter.
St. James Academy (at Bonner Springs), L, 13-7
A dominating, 14-play, 71-yard, game-opening drive capped by a 12-yard touchdown run from Robinson was no indicator of how the game would play out as Robinson's TD with 6:34 to go in the first quarter proved to be the Chieftains' only score. Tonganoxie could have potentially won the game with a touchdown and extra point in the fourth quarter, but turned the ball over on its final drive, putting its record at 4-2.
Basehor-Linwood, L, 38-15
A one-yard run by Robinson gave Tonganoxie a 7-3 lead before the Bobcats responded with 35 unanswered points in the Chieftains' Class 4A District 2 opener. The second straight loss moved Tonganoxie's record to 4-3.
At Piper, W, 29-26
Trailing 7-0 early in the first quarter, Carlisle returned a kickoff for a touchdown for the fourth time this season. Rushing touchdowns in the first half from Holloway and junior Jeremie Maus proved crucial as Piper outscored THS, 12-0, in the third quarter. Carlisle ran in a six-yard touchdown in the fourth quarter before the Chieftains secured the district victory, improving to 5-3, on defense in the final minute by stopping PHS on four straight pass plays.
Bishop Ward, L, 48-12
Tonganoxie's offense struggled against a talented Ward team that took a 41-0 lead into the fourth quarter. Among THS starters, only Robinson (seven carries, 24 yards) gained more than 20 yards rushing as the Chieftains fell to 5-4 in the season-ending, district defeat.