Vietnam: Finding honor in unpopular war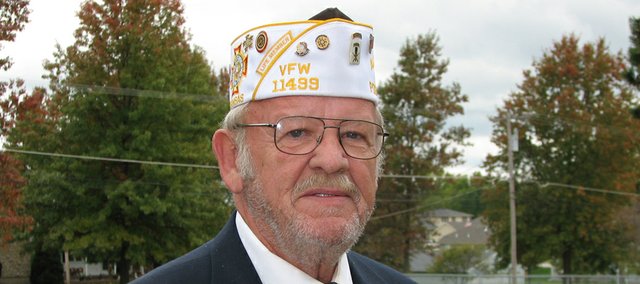 Basehor — It was an unpopular war in a strange, faraway land where warfare definitely wasn't the only hazard.
And Vietnam War veteran and Basehor native Fred Box remembers it well.
A self-proclaimed farm boy from Kansas, Box joined the Army right out of high school and fairly soon after shipped out to Vietnam.
"I joined the Army because I didn't want to put up any more hay or milk any more cows," he said. "When I came back from basic training, people asked me, 'Why do you want to fight in such an unpopular war?' I said, 'Because I couldn't find a popular war to fight in.'"
The darkness of the double-canopy jungles, swampy rice paddies and peasants living in cardboard houses greeted him in Vietnam.
Regular interaction with the villagers was part of his life in Vietnam, including going into one village that was not only stricken with leprosy, but an outbreak of the Bubonic plague. After the doctor he had gone with administered vaccines to the villagers, he remembers bathing in a creek with rubbing alcohol.
"It was such a backwards country," he said. "The Americans drank so much beer that they (the peasants) started to flatten out the cans and make their house out of those. You'd walk around and see Budweiser houses, or Coors or whatever it might be. The cities weren't too bad, but the countryside was all peasants."
One of his most memorable stories of combat was when he and his team of 25 Vietnamese Rangers and an interpreter stumbled onto a North Vietnamese camp. Although wounded, only he and the interpreter made it out alive.
But combat wasn't what scared him the most, Box said.
"The thing that scared me the most was the animals; those darn snakes," he said.
Bamboo Vipers were known as the two-step snake because after one bit somebody, they could walk two steps before the venom would start to take over their nervous system.
"I didn't know they had alligators down there and I was down in little swampy crossing a canal," he said, referring to the southern part of the country. "The alligators came up and got a Vietnamese private and we never did find him. From that day on I was more scared of the alligators crossing the canals than combat."
Coming home from Vietnam was a relief except there were no homecoming celebrations for the soldiers like there are today — in fact it was quite the opposite. Instead of a welcome home parade, Box said people burned the American flag while spitting on the soldiers and calling them baby killers.
"They used to make me so mad," he said. "I got into a fight every bar I went into. We didn't get a bit of glory."
Post Traumatic Stress Disorder was also coming to light, and Box said he had it so bad that he would have screaming nightmares and developed a drinking problem. He said one day he looked in the mirror and asked God for help. He hasn't had a nightmare or a drink since.
In his four tours in Vietnam, he was wounded three times and received three Purple Hearts, among other medals. He carries a reminder of war around with him always in the form of shrapnel that remains in his body. The shrapnel still occasionally pushes through his skin and prevents him from passing through airport security.
After all his experiences during his 20 years in the Army, he said he would do it all over again.
"What people don't understand is somebody has to or we wouldn't be free in this country," he said.
Today, Box is the commander of the active Basehor Veterans of Foreign Wars Post 11499.
He takes on remodeling jobs, volunteers his time and skills, helps those who ask and just enjoys his life with his friends and family in his hometown.
"Life has been good to me, so I don't have any complaints," he said.