Folks flock to Veterans Day parade
This year's event attracts more than 200 groups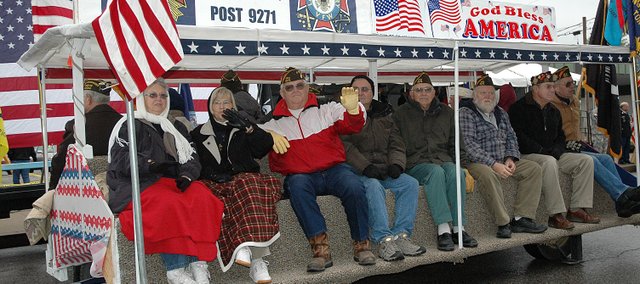 Patriotic music on Tuesday morning filled the streets of downtown Leavenworth as people from all over gathered to celebrate the bravery and sacrifice of all U.S. veterans.
Cheers roared as a bagpiper rounded the first corner, kicking off Leavenworth's 89th annual Veterans Day parade. As the oldest Veterans Day parade in the country and largest west of the Mississippi River, this year's parade passed all expectations.
"It's just getting bigger and bigger every year. We're really proud of it," said Diane Smith, secretary and spokesperson of the parade committee, adding that this year's parade is the largest to date with more than 200 organizations participating.
Joining the parade this year for the first time was Governor Kathleen Sebelius. The governor walked the route and waved as she passed cheering spectators.
"We're very honored to have (Sebelius) here for the first time," Smith said. "I think she's been to Leavenworth before in other capacities but never to the Veterans Day parade. With her being here, the national guard really went all out for it."
In addition to adding a second fly over by a black hawk, which had to be canceled because of weather, the national guard brought several soldiers who marched along the route has well as military equipment and trucks that had children pointing in awe.
Local bands with their cheerleaders and flag teams, including those from Tonganoxie High School, brought energy to the crowds as they filled the air with music. Organizations and clubs for the young and old also participated in the parade and either rode in old-fashioned cars and trailers or walked carrying signs of support for veterans.
Two years ago the parade added another tradition of having a swearing in ceremony for some of the area's newest recruits. This year, midway through the parade, action stopped and an officer and a young man entered the street. With their right hands raised, the young man vowed to uphold the responsibilities placed upon him as he serves his country
"The crowd just loves it," Smith said. "Once they finish with the ceremony he turns to the audience and announces 'These are your newest recruits,' and the crowd just goes wild. We like it. It's kind of touching."