Concussed: Chieftains handle head injuries
Four Tonganoxie football players dealt with concussions and the desire to play hurt in '08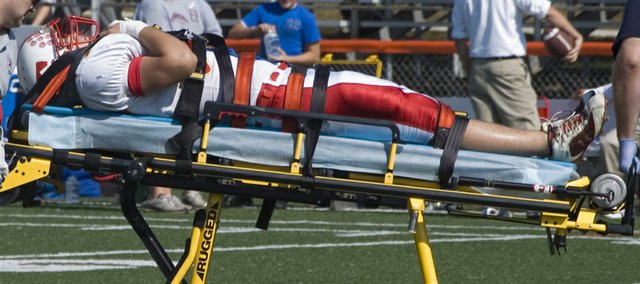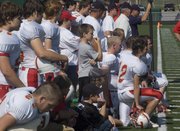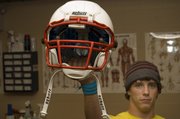 The final two games of his junior season, Richie Ridihalgh stood stewing on the sideline.
Wearing his letterman jacket instead of a uniform, the lineman wanted nothing more than to be on the football field, playing for Tonganoxie High.
But with post-concussion syndrome, there was no way Ridihalgh was getting on the gridiron.
Along with bad headaches, blurred vision and some ringing in his ears following a Grade II concussion he suffered during the Chieftains' Oct. 17 game with Basehor-Linwood, Ridihalgh also was battling short-term memory loss, which he said this past week is still occasionally plaguing him.
The return-to-play guidelines set by the American Academy of Neurology, which athletics trainer Mark Padfield follows at THS, state that a player like Ridihalgh, who has suffered multiple concussions since his freshman year, must be symptom-free for at least two weeks before being cleared to play. So Ridihalgh called the sideline his home the last two weeks of the season, all the while hoping Tonganoxie would qualify for the postseason so he might be able to suit up once again.
The Chieftains failed to qualify for the Class 4A playoffs. Ridihalgh's season was over.
He called the whole scenario "upsetting" because even with persistent side effects it was difficult to watch his teammates on the field playing his position.
"I still wanted to play just the same," Ridihalgh said.
While players want to play, Padfield, who saw four different Chieftains suffer concussions this season, said the main reason he has to keep players who have suffered a concussion off the field until they are symptom-free is the fear of another head injury.
Second-Impact Syndrome — SIS — is the biggest reason to shut a player down, Padfield said, noting that even a mild injury "has the potential of going south real quick" with brain swelling following even a minor collision.
The Tonganoxie trainer, who oversees all injured THS athletes, said he is always extraordinarily cautious with head injuries.
"With a knee, if you screw up, it's not life-ending," he said.
Out cold
Of the four concussed Chieftains who Padfield treated this year, he said he was most concerned about Shaun Roberts, who suffered a Grade III concussion — he was unconscious on the field — against St. James Academy just six days before Ridihalgh's injury.
Roberts ran underneath a block and one SJA player hit his knees while another hit him high, causing Roberts to smack firmly on the turf. Padfield sprinted out onto the field to examine the motionless senior lineman to discover he was, in fact, out cold.
Roberts has no memory of the play. He suffered a retrograde concussion, meaning he lost memory of things that happened prior to the blow to his head. When he came to and Padfield started asking him questions to determine his cognitive state, it was soon evident that Roberts didn't remember anything that had happened the previous two days. It was Saturday afternoon and he thought it was Thursday.
Luckily for Roberts, his post-injury symptoms didn't linger like Ridihalgh's. He only missed one contest and was cleared to return for the Piper game Oct. 24. But he could sympathize with Ridihalgh.
The desire to play for high school football players is so strong that some try to hide injuries, which — thankfully for them — is nearly impossible under the watchful eye of Padfield, especially in the case of head injuries.
While helmet-to-helmet hits are always examined thoroughly, even with the slightest head collision, Padfield will observe the affected player, watching his balance, looking to see if he appears confused.
"I'll walk by, steal a glance, see if their pupils look all right," he said.
But why would a player try to hide the injuries?
Said Roberts: "The fear of not getting to play the rest of the season."
Worst-case scenario
THS junior defensive back Dylan Caywood knows there are much more serious things to worry about when it comes to head injuries.
An uncle of his, Daniel Will, who played for Riley County, died due to a hit he suffered while making a tackle during a football game in 1998.
With knowledge of how terribly things can turn, Caywood knows not to lead with his head on a hit. But that didn't stop him from suffering a Grade III concussion of his own at a preseason practice this year.
Caywood was tracking down running back Jeremie Maus on an outside run. Both were running full-speed and when he went to tackle the larger back, Caywood got flipped over.
"My head bounced off the ground and I was just out," he said of the play that he doesn't remember but has learned about via recollections from teammates.
Caywood vaguely remembers waking up on the sideline surrounded by a group of people, then he remembers being in an ambulance.
"It was a little scary," he said. "I just didn't know what was happening."
It wasn't frightening enough to deter him from returning, however.
"I wanted to play the next day," he recalled, adding that he felt comfortable coming back even though his father, Mike, lost a stepbrother to a football injury.
"You can't really prevent a concussion," Caywood said. "It's just how you get hit."
Concussed more than once
THS sophomore running back Jeremy Carlisle got hit plenty of times this season — twice hard enough to suffer a concussion.
His first affliction, like Caywood's, came in a preseason practice. As he was hit, Carlisle didn't think it was much different from any other time he hurt his noggin, but he quickly noticed a difference.
"When I opened my eyes, everything was a shade of lime green," Carlisle said, adding that he had a loud ringing in his ear after receiving a Grade II concussion. "It was really weird."
It was a feeling he would immediately recognize when it happened again, this time during a game at Perry-Lecompton on Sept. 19. Carlisle had swept left on a carry and lost his balance. Leaning forward to gain his footing, a defender hit him helmet-to-helmet.
"I knew right there that it was another concussion," Carlisle said.
Again he had ringing in his ears, and he struggled to answer Padfield's cognitive questions and balance test. Although symptoms didn't last more than 15 minutes — the difference between a Grade I and Grade II — Carlisle had to sit out a week and miss the Wyandotte game because it was his second concussion.
A trainer's biggest fear
It was the kind of news players don't like to hear, but Padfield said he will gladly hound a kid when it comes to checking for symptoms because his biggest fear is that something bad will happen to one of the players, especially from an SIS scenario. As he put it, Padfield wants to make sure all the football players "get to go home and eat supper and come to school the next day."
Therefore, he is extra cautious because he realizes sometimes football creates a culture where players might try to hide an injury because of "not wanting to appear weak for coaches, players, (or) parents sometimes."
But the Tonganoxie trainer has a good enough rapport with the Chieftains that it is doubtful one of them would try to conceal a significant ailment. Carlisle said with severe injuries, players are up front; it is the minor ones they try to hide.
Even though Carlisle, like Caywood, Ridihalgh and Roberts, just wanted to be on the field helping his team while sidelined, their collective bad luck with concussions has taught them to play it safe.
Carlisle certainly learned his lesson: "It's probably for the best if I tell them when I am injured so it doesn't get even worse."