Jeannin sets up Kansas all-stars in 4-0 victory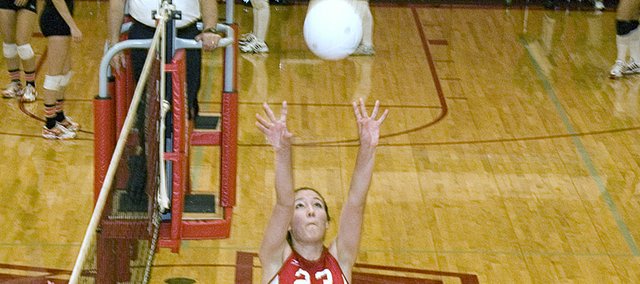 It is unlike Chrissie Jeannin to miss practice, especially the first day.
But the Tonganoxie High senior had a pretty good excuse Monday for being absent from girls basketball practice in the afternoon (although she made it to the morning practice at 5:45 a.m.).
Jeannin had to be in Kansas City, Mo., at Avila University for the 2008 MO-KAN All-Star Volleyball Match.
She found out a few weeks back from Chieftains co-coach Brandon Parker, who called her into his office in between classes to tell her the news, that she was one of 12 prep players from Kansas selected to represent the small class team (Class 4A-1A) that would take on the Missouri small class team (Class 3-1).
The senior setter said it was a big honor, considering the glut of talented players in the area.
"I was really surprised. I didn't expect it or anything," she said.
She probably didn't expect the team of Kansans to dominate their Missouri counterparts on Monday either, but that is exactly what happened as Jeannin's Kansas squad rolled to a four-game sweep.
The teams were supposed to play five games, but the prolonged match, which included a back-and-forth second game in which Missouri had a game point before Kansas rallied for a victory, ended at four games because of time constraints.
Jeannin said she and her teammates were playing for state pride.
"Our team really wanted to beat them," she said. "All the girls on our team were really competitive and didn't want to lose."
As one of the team's setters, Jeannin saw her fair share of playing time in the all-star match. Playing her position, though, provided an additional challenge because she was called upon to put other players in a position to succeed.
"It's a lot different because of all the different players around you, but I finally got adjusted to it," she said.
The team practiced together for a few hours on Sunday morning and did some scrimmaging, but considering that Jeannin was used to playing against — not with — her temporary teammates from schools such as St. James Academy, Bishop Ward and Ottawa, they had to discover some chemistry in a hurry. The players spent a lot of time together and enjoyed an all-star banquet Sunday, which helped some.
"St. James, all of them liked a faster-paced ball," Jeannin said of adjusting to some of her all-star teammates, "so it took a while."
The individual highlight of the evening for Jeannin came when her team's middle blocker pulled over to the other side and she stepped into the blocker's spot and rose up for a solo block on an outside hitter from Missouri, a move the setter is capable of, but not known for, necessarily.
At the end of a long day that started with basketball and ended with volleyball — "My body is kind of getting a little sore," Jeannin said — the THS senior said her all-star performance would not be her final volleyball act for the near future.
She is playing on a club team, which will practice weekly and play in some tournaments, as she hopes to continue her volleyball career at the college level.
"I'm looking to play volleyball somewhere, I don't know where yet," Jeannin said.
But she still plenty has plenty of time — in between getting back to basketball practice — to figure that out.