Patterson signs with Jayhawks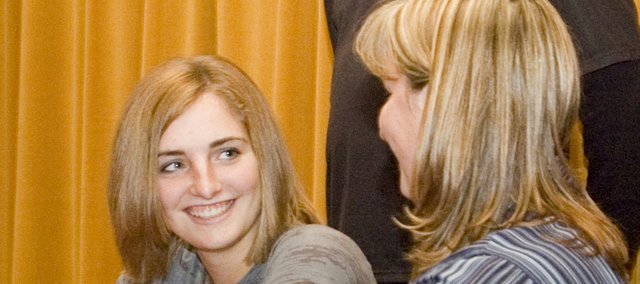 A scenario Kendall Patterson envisioned for years finally came to fruition Wednesday afternoon, Nov. 12.
As family, friends, teammates and school officials looked on, some clapping, others cheering, the McLouth High senior signed her letter of intent to play softball at Kansas University.
KU coach Tracy Bunge and her staff didn't have to recruit Patterson very hard. She verbally committed to Kansas as a sophomore.
"I wanted to play there ever since I was little," the new Jayhawk said minutes after making it official.
Rocking a gray KU T-shirt, the Bulldogs catcher put pen to paper as her proud papa, and MHS softball coach, Ballard Patterson watched over her shoulder.
Although she grew up a Jayhawks fan, Patterson didn't know she wanted to play softball for KU until 12, when her youth coach, John Moppin, took her and other players to watch his daughter, Jessica Moppin, a KU infielder, play at Arrocha Ballpark.
"They were my idols," Patterson said of the players on the Kansas teams she watched back then.
Watching them play inspired her to do whatever it took to one day don the crimson and blue.
When friends were going to the mall or a movie, Patterson was hitting. Before long she was winning youth softball awards and making all-star teams. Then, as Ballard Patterson put it, things just snowballed.
"The better she would get, the more she worked," he said.
There were times when she wanted to let up. She thought about the fun her friends were having.
She occasionally didn't want to do the workouts or take the cuts. But her dad was always there to remind her that somewhere someone was working while she rested.
"We've put in the time," the coach said. "If anyone earned it, she definitely did."
Without question, the work paid off. With the numbers Patterson posted her junior season — .810 batting average, 47 hits, 23 doubles and five triples for a MHS team that went 22-1 and finished third at the Class 3A state tournament — it is no surprise that Kansas offered her a scholarship.
Equally effective in catcher's gear or with a bat in her hands, Patterson said her monster offensive stats are the product of the time she spent honing her defensive skill set.
"A catcher sees all the spins and everything, so when I'm up to bat, I can see, 'Oh, that's a curveball coming at me,'" she explained.
Once she reaches the college level, however, Patterson said her defense should translate quicker than her offense.
"The pitchers are just amazing at that level. They're all elite," she said. "You have to step your game up and do a lot of work."
Working on her game shouldn't be a problem for Patterson. That's what brought her to this point — in an auditorium, signing documents from KU that made her dream a reality.
Once the signing was finished, though, she felt somewhat relieved.
"When I committed, that was a big weight off my shoulders," she said, "but now it's even better because it's set in stone."
She still has a lot of prep softball to play, and now that is where her focus will turn.
"I want to get first at state this year. I think everyone does," she said of her talented teammates who helped the Bulldogs to the best season in school history. "We have the mind set and we're not going to settle for anything less."