McLouth welcomes teacher home from Iraq tour of duty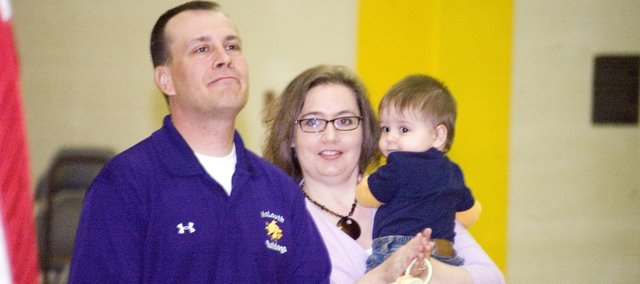 A little more than a year ago, Shawn Miller, a captain and commander of Charlie Battery, 1st Battalion, 161 Field Artillery in the Kansas National Guard, headed overseas to Iraq to serve his country.
At his Tonganoxie home, he left behind a pregnant wife and a job as a middle school science teacher in nearby McLouth, not knowing how long it would be before he returned.
A few weeks back, his wife, Gretchen, received some exciting news, which she passed on to McLouth Superintendent Jean Rush in an e-mail: "Mr. Miller will be home in Tonganoxie, where he belongs."
Miller returned to U.S. soil on Oct. 18, and on Thursday morning at the McLouth High gymnasium, the McLouth community recognized and thanked Miller for his service.
Addressing the gymnasium full of students, faculty, some veterans and McLouth residents, Miller thanked them for their support during his deployment, noting the comfort and encouragement he felt when he received letters penned by McLouth students.
Afterward, Miller said he was thankful for the chance to be recognized by the community that he loves. It was a special day for the captain, who had just returned to his post as science teacher the day before, which came rather easily.
"I was right back in it and I just felt like that's what I was supposed to be doing," he said.
Being away from his family so long, however, proved far more tasking.
"The rest of Iraq's pretty easy," Miller said. "You get up in the morning and you slug through it. Being away from my family, especially from my wife and my newborn was absolutely the most difficult part."
That made for an emotional return home.
"There aren't even words to describe the kind of feelings out there," he said. "Your heart's just absolutely full and you feel like if you put one more thing in it, it's just going to explode on you. Overwhelming."
It wasn't until his return that he first held his 7-month-old son, Wyatt.
"To meet your son for the first time," Miller said, "is just an amazing experience."
Gretchen Miller said she was nervous as she waited for her husband's return.
"It had been so many months that I didn't know where we were. We had a new life," she said. "We had a new son — our family dynamic had completely changed."
Any worries evaporated when Miller came home, she said, noting everything fell right back into place, but it was "even better because we have Wyatt now."
Miller's son and wife were by his side as his school district honored him Thursday morning. Miller said his students and co-workers were often in his thoughts as he served in Iraq. He wore a lucky No. 7 football practice jersey on his first patrol and flew a McLouth High flag in August on the day his students returned to school half a world away.
Rush said the assembly, similar to one the district held for Miller before he left, was another way to show him and his family that McLouth cared about them.
"We believe it was important to let him know that we were supporting him while he was gone and that we were going to anticipate his welcoming," she said. "He is a very important part of our school district."