Early practices engrossing for area teams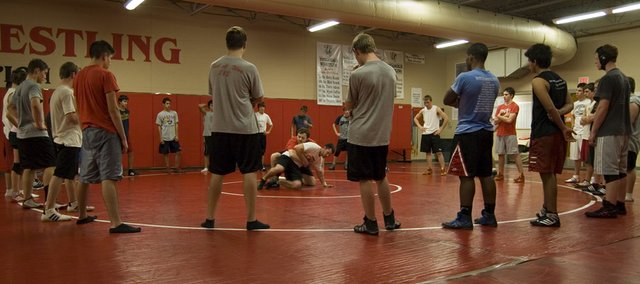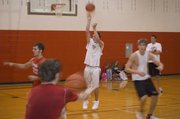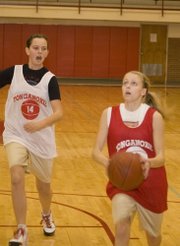 When prep winter sports practices began this past week, local coaches had two general reactions:
1. All right, we can finally get to work on the upcoming season.
2. Oh no, we have all this stuff to cover and so little time to do it.
Such is the life of a coach. The first few days of practice are stimulating, but there's still that anxiety about getting the team ready in time for the season opener.
Tonganoxie High boys basketball coach Shawn Phillips said, for him, the best part of the first few days of practice is watching the players and seeing how they have improved.
"It is also exciting to see how leadership develops," Phillips said. "The dynamics of the group change from year to year, and it is interesting to see what players step into leadership roles on their own, and who needs to be prodded a little."
THS wrestling coach Jeremy Goebel said the first week of practice, when the foundation for the year is laid, is crucial.
"The first couple of days it is great to see the kids in there working and putting forth the effort to be the best they can and also make their teammates better," Goebel said.
The coaches can be just as rarin' to go. McLouth High boys basketball coach Jason Schroeder said he loves being back in the gym.
"Being a basketball coach is why I went into education in the first place," Schroeder said. "It's more fun than going home."
But there is a long list of not-so-fun things that coaches have to worry about.
"Time is the biggest challenge," Tonganoxie girls basketball coach Randy Kraft said.
The little things like paper work, getting team T-shirts, making sure players have received their physicals and taking inventory can seem like a pile of minutiae, but they are important parts of the job.
Goebel said staying organized is a key to running a productive program, but no matter how detail-oriented those first few days are, he sometimes asks himself, "Did I get that done?"
Schroeder said he frets over getting everything accomplished each day at practice while, at the same time, transitioning smoothly from drill to drill.
"I am very uptight and I like to have every detail planned out," Schroeder said.
There is a lot to accomplish in a short timeframe at practices as coaches attempt to get their athletes in position to succeed from Day 1 of the season. McLouth girls basketball coach Todd Cossman said productivity is constantly a concern.
"You only have so many days of practice until the first game, and it always seems like there isn't enough time to get everything you need in," Cossman said. "That's one of the biggest early challenges for a coach — prioritizing what your team needs to work on most."
In his first year at Tonganoxie, Phillips said he is really feeling the time crunch.
"With a brand new coaching staff and new offensive and defensive systems this year, it makes it especially difficult to have everything you want ready to go for the first game," Phillips said. "You really only have about three weeks to be ready. That may seem like a lot of time for most people, but believe me, it doesn't seem like enough time from a coach's perspective."