Himpel decides to join older sister at Washburn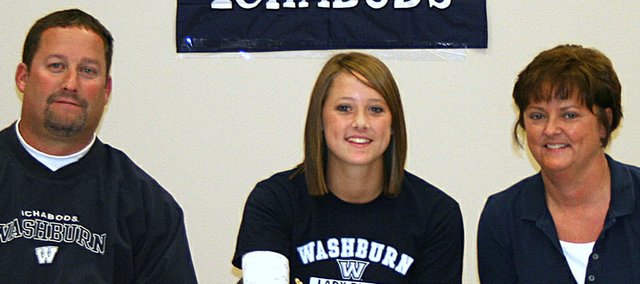 A few months back, Lauren Himpel sat on the phone, politely going through the motions, feigning interest as Washburn University softball coach Lisa Carey talked to her about the school's program.
Upon hanging up the phone, the Tonganoxie High senior turned to her older sister, Lindsey, a 2008 THS grad who is currently a freshman softball player at WU and said: "I will never go to that school."
Nothing against Carey or the Lady Blues program, Himpel just thought she didn't want to play on the same team as her sister Lindsey because that is what she had always done as the two grew up together.
But after playing on summer and fall softball teams without her older sibling, Himpel realized playing alongside her sister wasn't a bad thing at all because it is hard to find teammates with a closer relationship than two sisters.
With a change of heart, Himpel signed a letter of intent to play softball at Washburn on Tuesday, Nov. 18.
After watching some of WU's fall games this year and taking a visit to the Topeka campus, Himpel made up her mind and told Carey of her decision a few weeks later.
The fact that she warmed up to Washburn and made it the school of her choice had the Himpel clan happy. Lindsey was excited to have her sister as a teammate, knowing her abilities will help WU, and parents Mark and Debbie were glad to have their daughters back together on the diamond — and they don't have to shop for more softball apparel either.
A natural outfielder willing to play in any field, Himpel is eager to bring her speed, athleticism and ability to cover a lot of ground to the Washburn softball team, defensively.
Offensively, her game will have a different look than it had the past couple years. Himpel's batting approach went through a two-year experiment as her Gold Division coaches hoped to utilize her speed by having her bat left-handed and reach base with ball-placement. But a coach this year who was familiar with the pop Himpel delivered as a righty suggested she return to her old stance on the other side of the plate. Following a successful fall season, Himpel plans to bat right-handed this coming spring for THS.
Now that her college recruitment is out of the way, Himpel is looking forward to relaxing and having fun her senior season as a Chieftain. She said she wants to maintain the high level at which she has played — she was named to the Class 4A all-state first team by the Kansas Softball Coaches Association — and help Tonganoxie play to its potential in 2009, a year after losing a handful of talented seniors.
Once she graduates, it's off to Washburn to re-unite with her sister. Himpel will room in a dorm her freshman year and after that she said she and Lindsey might rent a place together.
"That's a might, though," she said with a laugh.
After all, these decisions are subject to change.