Murder sentencing hearing continued
Judge orders competency evaluation for Haberlein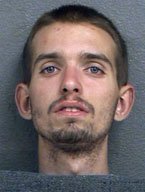 The sentencing hearing for a man convicted of a November 2005 murder in Bonner Springs was continued a fourth time Thursday in Wyandotte County Courthouse.
During a motion hearing Judge John McNally ordered a competency evaluation for Robert Haberlein, 21, Kansas City, Kan., in response to a motion by Haberlein's attorney, Richard Payne.
In June a jury convicted Haberlein of first-degree murder, aggravated kidnapping and aggravated robbery in the killing of Robin Bell, a Tonganoxie resident and manager of the northside Bonner Springs Dollar General.
Chris Schneider, assistant district attorney, said McNally ruled that Haberlein's mental health and abilities would be assessed by two doctors. The results of the evaluation could influence the sentence Haberlein receives, but Schneider declined to give examples of sentences Haberlein could receive as a result of being found incompetent, or whether it could improve Haberlein's chances of appealing his conviction.
During his hearing last December, Stephanie Carlin, who served as Haberlein's supervisor in the Wyandotte County intensive supervision program of the juvenile division of community corrections, testified that he had been assessed as having "mild mental retardation."
Also, she said that in 1999, when Haberlein was 11, he had been tested and found to have a third-grade reading level, second-grade math skills and the written-language skills of a student still in first grade. He was also diagnosed as bipolar, with attention-deficit-hyperactive disorder, and abusing alcohol and cannabis, Carlin said.
The trial for another suspect in the murder, Jon Backus, 22, Bonner Springs, is scheduled to begin Jan. 27. The third person arrested in September 2007 for Bell's murder, Amber Russell, of Lenexa, has a deal with the Wyandotte County District Attorney's office that she would be charged as a minor — she was 15 at the time of the crime — in exchange for her truthful testimony in the trials of Haberlein and Backus.