Son thankful for mother's donation offer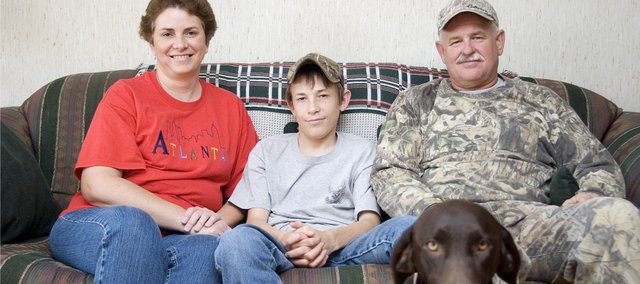 In the coming months, Melissa Ostermeyer will be giving something to her son, Jacob, for which he'll be thankful many Novembers to come. Jacob Ostermeyer, 16, is a Tonganoxie High School sophomore who suffers from membranoproliferative glomerulonephritis Type I, or MPGN, which is a kidney disease. Now, Jacob is in need of a kidney and his mother will be donating one of hers to her youngest child. Jacob was diagnosed six years ago with the condition, and for much of that time Melissa said Jacob has been able to combat the condition with diet and medication. However, earlier this year, the family learned of issues with Jacob's bloodwork. Jacob had gone to his doctor for labwork Feb. 27. On March 2, Jacob underwent a root canal and the dentist wanted to put Jacob on an antibiotic. Melissa, wanting to check with Jacob's physicians about whether he should be given an antibiotic, learned during the call that they had received the labwork report and Jacob would need to come to the hospital immediately. Although Jacob felt fine, physicians checked him into a room for 24-hour urine collection. It was determined his blood pressure was in the stroke and aneurism range, Melissa said. Jacob spent a week in ICU and later that month had to undergo two dialysis catheter surgeries. In the past, Melissa had contemplated being a donor for her son, but Jacob's episode in March convinced Melissa to look seriously into becoming a donor. She and her husband, Kieth, were tested to be potential donors. But Jacob's father was not a match. Melissa, meanwhile, was blood compatible. Melissa talked about the emotions she is feeling in becoming a donor for her son. "Amazing, scary, overwhelming," Melissa said. "We know there's a plan B (to dialysis) for Jacob." In June, Melissa took dialysis training to administer from home. While in the hospital in the spring, Jacob kept up on schoolwork from the hospital. But with Melissa helping her son with dialysis at home, he undergoes treatment each night, much of which takes place while he sleeps — so Jacob is able to attend school regularly and then undergo treatment at night.
The waiting game
When exactly the transplant will take place is up in the air. Ideally, Melissa said, it will be this summer. But if some upcoming tests show the need to move faster, it will take place in January. Melissa said her kidney would be removed at Children's Mercy by physicians from St. Luke's Hospital, and Jacob will receive the kidney at Children's Mercy. Melissa will go into surgery about two hours before. "As long as he can get by on the lighter dialysis," Melissa explained. "We probably wouldn't do it until January." When the transplant will take is place is dependent upon a Dec. 17 doctor's visit and test results from that appointment, Melissa said.
Television appearance
Jacob, who is an avid hunter, had the opportunity recently to go on a bear hunt in Wisconsin. A previous story in The Mirror profiled Jacob and a big hunt he had locally in which he nabbed a buck. The deer story, which also focused on Jacob dealing with his illness, caught the eye of John Mozingo, who is on the board of directors for the United Special Sportsmen Alliance. USSA is a non-profit "dream wish" organization that specializes in sending critically ill and disabled youth on outdoor adventures. Word also made its way to Bob Lindquist, who shoots video for Footprint Productions' "Hunting In God's Country," which can be seen on the Outdoor Channel. Through USSA, Jacob was invited to take the trip to Wisconsin. His father joined him, as did Mozingo and Lindquist. In the process, Jacob was interviewed on the trip for a segment on "Hunting In God's Country." And he got his bear, as Jacob snagged a black bear on the trip. It weighed 230 pounds. Hunting has been Jacob's No. 1 hobby, along with fishing and trapping, and he's also been involved in 4-H.
Coping with the illness
Melissa has the date forever filed in her memory bank — Nov. 13, 2002. That morning, Jacob, while getting ready for school, became sick to his stomach and was shaking uncontrollably. Melissa took her son to a Tonganoxie physician, who referred Jacob to a pediatrician in Lawrence because he thought Jacob might have meningitis. A spinal tap ruled out meningitis, but Jacob was taken to Lawrence Memorial Hospital for more tests. "They did a urine collection and realized there was a lot of protein in his urine and way more than there should be," Melissa said. Jacob then spent a week at Children's Mercy that November for additional treatment. Today, he generally has to stick to a low-sodium, low-phosphorus diet. "I can't have dark pop," Jacob said, noting he drinks his share of the light-colored Mountain Dew. "Only root beer because I can't have phosphorus and that helps shut down kidneys and I can't get rid of that." Although he has to watch what he eats, there is a Thanksgiving dish his mother usually prepares that he is looking forward to chowing down on come Thursday. "Cheesy potatoes," Jacob said with a smile.
Be a donor
Through their experiences, the Ostermeyers have become avid supporters of organ donation. "If you're not already signed up as a donor, sign up," Melissa said. She said it was important to not only make the distinction on one's driver's license, but to also clear it with one's family. And, she said, people need to register with the Midwest Organ Transplant Network. The network's Web site is www.mwob.org. "The family must be aware of the wishes," Melissa said. "The family can override that." Parents aren't always matches to their children, as she luckily is to Jacob, so she encourages people to be a donor so that they may "donate life" to others. Because of his kidney ailments, Jacob hasn't been able to get involved in sports or the like because of the possibility of injury to his fragile kidneys. "He couldn't run the risk of a blow to the kidneys, and being so weak with anemia, a side effect of kidney disease, he didn't have the energy," Melissa said. However, in the coming months, Jacob should experience a major change in health with the help of his mother. With Thanksgiving coming this week, Jacob said this Thanksgiving likely would be like any other. However, as Melissa put it, next Thanksgiving probably will be a much different story. "Next year it's a whole new life for him," Melissa said, "and I think it will dawn on us it's a whole new starting over for him."
— Watch Sunflower Broadband Channel 6 for a feature story on the Ostermeyers as well. In addition, the segment will be made available at www.tonganoxiemirror.com.