Youths take to Turkey Day events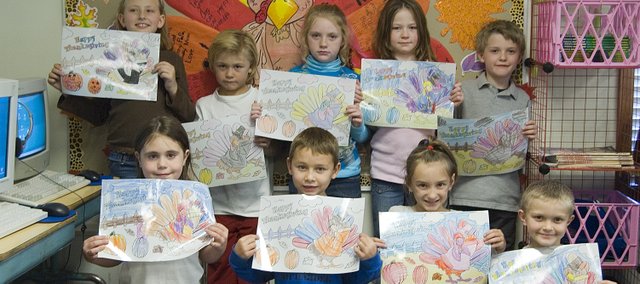 Second-graders at Genesis Christian Academy are doing their part to make the dinner table a bit more colorful for some of their friends on Thanksgiving.
Students in Kathy Link's class at GCA made placemats for their pen pals — residents at Tonganoxie Nursing Center.
Link said students have been writing letters this year to their pen pals at the nursing center about once a month.
Students said they've learned many things about their pen pals, as one pen pal told a student her favorite color was purple, while another used to raise dogs.
As added correspondence, the students made decorated placemats for their nursing center counterparts that say "Happy Thanksgiving" and have turkeys on them.
Link said she would be dropping off the placemats today at the nursing center.
In addition, she plans to shoot a video of the students to send to the nursing center residents in the coming months. And in the spring, the students will have a chance to meet their pen pals, Link said.
.