Alpacas provide hobby for family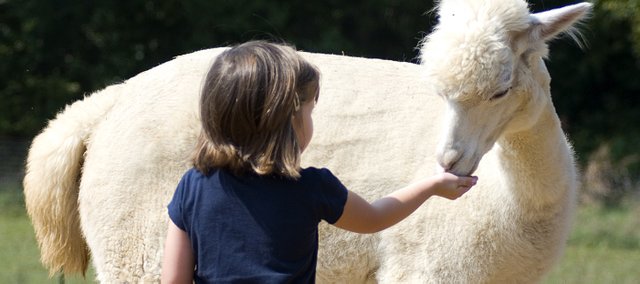 Macel and Bruce Koerth have one more reason to be excited about being alpaca raisers.
On Friday, one of the Koerths' alpacas, named Belinda, was the first of seven mothers to give birth this fall.
"She's cute," Macel said about the newest alpaca at the farm that was born Friday. "She's gaining about half a pound a day. Her momma has good milk."
This weekend the two alpaca raisers, along with Jane Hall of Little Slice of Heaven Alpacas and Sharron Shaw of La Costa Alpacas, were on hand at the Koerth farm for National Alpaca Farm Day.
The group showcased their alpacas, which are boarded at the Koerth farm, to more than 40 guests who came to the farm in rural southern Tonganoxie. Because of the new arrival, the farmers had a naming contest for the baby alpaca during the two-day event.
Marcel said two people had written down the same name, Bella, so she had to go with it.
The Koerths, who once described themselves as "city people," got an unusual start to their farming business.
Macel described how she got the idea to raise alpacas after watching a commercial about the animal when she and her husband lived in Denver.
"Basically, I saw them and fell in love," Macel said. "I looked at Bruce and said, ' I want to raise alpacas.' He cocked an eyebrow and said, 'OK. What's an alpaca?' And here we are."
The Koerths moved to Tonganoxie in 2005 to start the alpaca farm as a side business they could run when they retire.
Hall, who lives in Kansas City, Mo., and Shaw, who lives in Platte City, Mo., uses the Koerth farm as a way to have another job and live in a big city while still owning alpacas.
"I've always boarded mine at farms because you can own them and board them somewhere and still have a business," Hall said
Hall said the real money in alpaca farming is in breeding and not necessarily in the fine alpaca wool. She has seen top quality female alpacas go for $15,000 and she has seen a male alpaca go for as high as $92,000.
Macel said even with 51 alpacas, the animals don't require a lot of daily maintenance, which allows the Koerths to hold separate jobs during the day.
Each day the Koerths spend about three hours with the animals unless they are doing something special such as trimming toenails.
"I always tell everybody that the people I work with think I'm crazy because my favorite time of day is when I quit work and I come down and I scoop poop and feed the animals," Marcel said. "It's relaxing. I'm around the animals and they're calming. They make me relaxed, even though it's work and they give me kisses sometimes. There's nothing better than an alpaca kiss."