Dunn leaving planning and zoning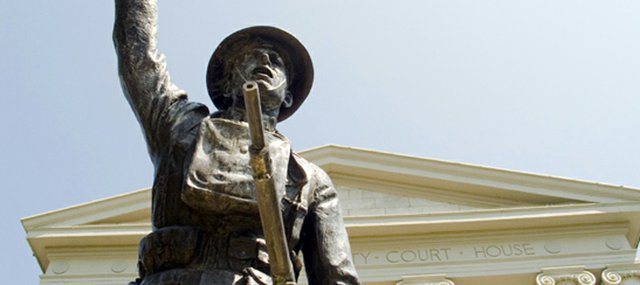 After three years as the county planning and zoning director, Chris Dunn will be leaving the county courthouse for a new home.
On Monday, Dunn submitted his letter of resignation to the county commission saying that he "was presented with a tremendous opportunity for my career."
"I wanted to thank the commission for the time I've had here with Leavenworth County," Dunn said.
Dunn was recently hired by the City of Leavenworth to be its new Development Director. Dunn's first day in Leavenworth will be Nov. 3. His last day with the county will be Oct. 24.
"I think it's a great opportunity," commissioner J.C. Tellefson said. "I wish nothing but the best for you."
The commission unanimously voted in favor of accepting his resignation.
Public Works
The commissioners heard the monthly report from the county's public works department. Public Works Director, Michael Spickelmier, came to speak about the department's 2008 budget projections.
Spickelmier's figures showed the department would have a $38,779.53 deficit for road and bridge operations and a $39.342.57 deficit for local services.
The culprits? Fuel prices and lower revenue from motor vehicle and ad valorem taxes.
"In May of 2008 I anticipated expenditures of approximately $750,000 for fuel for the year. We're going to be close to $800,000 for our fuel expenditures this year," Spickelmier said. "Considering that we had budgeted $450,000 in fuel this year, we are anticipating a $350,00 shortfall."
Offsetting some of the extra expenditures is reimbursement revenue that is more than double the $150,000 budgeted. The department has been reimbursed $75,000 from the Leavenworth County Sheriff's Office for public works fuel used for law enforcement vehicles and $109,000 from Federal Emergency Management Agency to offset the cost of a January ice storm.
There is also $282,000 in RIF and TIF transfer money from previous projects in 2007. Spickelmier has also used money for new road construction to increases the money needed for commodities.
Spickelmier said these numbers were based upon operating through the end of the year and do not include overages for any snow removal.
The public works department and the commission may consider a snow removal priority system or even adopting a new snow removal policy to minimize the usage of snow and ice removal materials.
In other business the commission:
• Unanimously approved a motion to have commissioner Graeber sign the fiscal year 2008 year end outcomes for the Leavenworth County Community corrections.
• Went into executive session for 15 minutes with county administrator Heather Morgan, County Clerk Linda Scheer and deputy County Clerk Janet Klasinski to discuss matters of homeland security. No action was taken.
• Unanimously voted to accept a contract with Leavenworth Cleaning to supply janitorial work for the county after Cole's Cleaning, which originally won the bid, would not be able to fulfill their contract. The contract for Leavenworth Cleaning would be for three 1-year periods with an annual fee of $230,000.
• Unanimously voted to declare 22 county copiers as surplus to be processed out of the county's inventory. The commission voted 2–1 to sell seven of those copiers to KK Office Solutions for $4,250, which will be applied to the county's maintenance contract with the business. Two other copiers will be sold to Heartland Business Machines for $670. Graeber was the dissenting vote. He said he would like the machines that the county knows are working to be made available to non-profit organizations, but commissioners Oroke and Tellefson wanted to sell the valuable copiers and give out the remaining obsolete copiers to the organizations on a first-come-first-serve basis. The commissioners also wanted it to be known that the county would not be liable for any problems with the copiers.
For more on Monday's meeting visit www.tonganoxiemirror.com