Farm tour hits area this weekend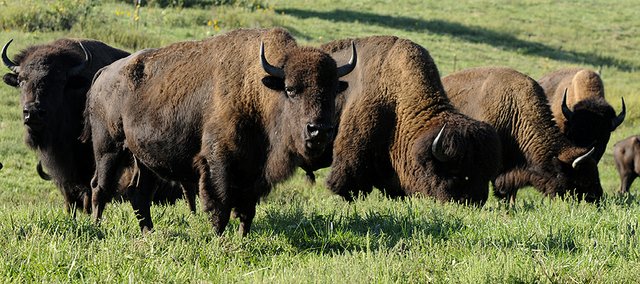 Overbrook — Don and Terri Gibbs tried buffalo steaks more than 20 years ago and they were immediately hooked.
They ate it when they could find it.
"It's just got a great, natural flavor to it," Terri said. "It's a little bit sweeter, denser — kind of rich."
Today, they don't have to travel far to satisfy their appetites for the lean meat. They raise and sell buffalo on their 50-acre ranch just seven miles west of Baldwin Junction on Highway 56. They sell steaks, jerky, summer sausage, roasts and ground burger. Prices range from $21.25 for a pound of tenderloin filet to $1.30 for jerky sticks.
If you've never tried it, the Gibbs family will have samples during the Kaw Valley Farm Tour on Oct. 4-5. The buffalo ranch is one of 15 stops this year on the fourth annual tour and tends to be a crowd-pleaser.
"People usually rank it pretty high in their stops," said Bill Wood, Douglas County agriculture agent with K-State Research and Extension. "Before the European settlers came here, buffalo roamed wild and then for many years there were probably no buffalo in the county. Today, we are back up to three herds that I am aware of. They are pretty unique."
Why buffalo?
Don and Terri, who lived in Topeka and Eudora after getting married, longed to return to the rural Kansas life that they grew up in.
"I always wanted to get out in the country for years and years and years," Terri said as she sipped ice water from a small jar.
She talked about her family's budding business last week while sitting on the front porch of the Bison Country Store that her husband built from old barn wood. It's filled with buffalo mounts, artwork, skulls, knickknacks and, of course, freezers of bison meat.
The couple lived in Eudora for about 12 years. Don was a full-time contract glazier working in Kansas City, and Terri worked for the Golf Course Superintendents Association of America in Lawrence. A friend had started raising bison and that piqued Don's interest, so he and Terri began networking with other bison producers and learning about herd management and market potential.
In 1994, they purchased their current land and, soon after, began acquiring bison, mostly through private herds.
"We started with a couple here and a couple there and started growing our herd," Terri said.
Today, they have 25 buffalo.
"Our 50 acres definitely limits us to the number of animals that we can have. We would love to have more buffalo. We would love to have more land. We are maxed out," Terri said.
The couple began marketing and selling the meat about 10 years ago. Besides selling it at their store, they sell bison to La Parilla, Local Burger and at the Lawrence Farmers' Market on Saturdays.
Sales have nudged up every year at the farmers' market, and they credit the local food movement for part of it. The Gibbs' buffalo are grass-fed and are not given any hormones, antibiotics or growth stimulants.
"The main thing that is important to me is knowing that I am feeding my family healthy food," Terri said. "We try to produce the healthiest meat we can."
Bison meat is low in fat and calories and high in protein. The American Heart Association recommends it. One 3.5 ounce serving of bison has 143 calories and 2 grams of fat.
Terri said she is frequently asked how to cook with bison. So she compiled a six-page cookbook a couple of years ago. The free cookbook offers tips and recipes for dishes such as fajitas, roasts and burgers. The main thing she advises is cooking bison slower and at a lower temperature because the meat is so lean.
Tough business
It's just one of the many ways that Terri tries to educate others. She often gives presentations at schools, especially on Kansas Day.
"I love doing it," she said. "But there are times I have to say no because I have to make money," she said.
The Gibbs have pumped a lot of money into the business and hope someday to make a profit that they can retire on. Terri said they are like a lot of farmers who tend to be "land rich and cash poor."
The buffalo market fluctuates, Terri said, but she estimated a 2-year-old male costs between $1,000 and $1,200.
The upside, Don said, is the animals are easy to care for once a heavy fence with electric wire is in place. A mature male weighs about 2,000 pounds while a female weighs around 1,100 pounds.
"They are pretty self-sufficient," Don said. "You don't have to work with them as much. There's not many vet bills, and they are just a healthier animal."