THS

volleyball wins one, loses one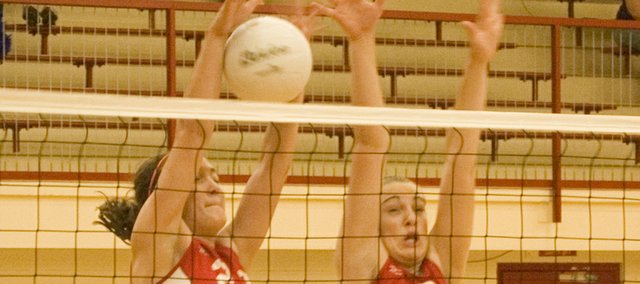 The Chieftains volleyball team picked up a win and a loss at Lansing on Tuesday night.
Tonganoxie High fell to host Lansing at the triangular in two games, 25-17 and 25-15.
Co-coach Brandon Parker said THS (10-10) played well in stretches during that match, and the Chieftains had less trouble with Mill Valley, defeating the Jaguars in two games, 25-16 and 25-22.
The Chieftains statistical leaders on Tuesday were Megan Puhr (10 digs), Abby Eisman (nine kills), Danielle Miller (eight kills), and Chrissie Jeannin (two aces).
THS is back on the road on Thursday for another triangular at Hayden that begins at 5 p.m. The Chieftains will also face Topeka.