Council sets park hours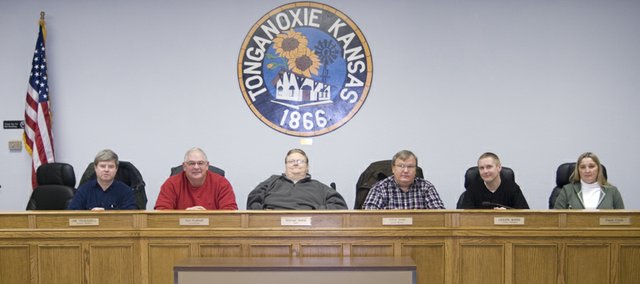 The City of Tonganoxie, along with the Tonganoxie Recreation Commission, has taken a harder line on late-night meetings at Chieftain Park.
On Monday the council unanimously voted, 4-0, to adopt an ordinance that officially sets the hours of public parks to be from 5 a.m. to 11 p.m. Council member Steve Gumm was absent.
During the meeting, Tonganoxie Mayor Mike Vestal said that there had been a growing problem of groups of people staying in the park late at night.
Gayle Parker, director of the recreation commission, said Tuesday there was a sign already posted with those same hours, but he had noticed groups of people at the park after the posted hours and has noticed some vandalism.
"They just wanted to put a little teeth in enforcement," Parker said about the ordinance. "Before all they could do was run them out."
Billy Adcox, lieutenant with the Tonganoxie Police Department, said Tuesday enforcement would be under the discretion of the officer.
"If people are there walking and they are not doing anything wrong, we are not going to disturb their activity," he said. "We are going to monitor for the people that are hanging out at two or three in the morning and are up to no good."
In other business, the council:
• Unanimously adopted the 2003 edition of the International Fire Code by recommendation of Fire Captain John Callaghan. Among some of the new codes is a requirement for new buildings to have special access to firefighters in case of an emergency.
Callaghan said allowing for special access was cheaper for the business than having to replace a door that a firefighter would break down to gain access.
The new code will only affect commercial businesses or large residential structures and will not affect any existing businesses.
Because the fire department will have access to the buildings, more thorough background checks will be performed on all department employees and volunteers.
• Unanimously voted to approve pay request No. 1 for Meadows Construction for $25,064.24 for work done on the Tonganoxie Skate Park.
• Unanimously approved payment to O'Donnell and Sons for $37,131.95 for asphalt on Fourth Street.
• Heard a quarterly update from the Tonganoxie Chamber of Commerce.
• Unanimously accepted First State Bank and Trust's bid of 3.75 percent to finance $43,402.79 for bunker gear for the Tonganoxie City Fire Department.
• Unanimously voted to amend the initial contract for BG consultants to include $3,200 for inspection services.
• Were given a draft copy of the Tonganoxie Skate Park rules. Yanez said the list of rules is similar to the rules from other surrounding skate parks. The rules include the park hours, 8 a.m. to 8 p.m., and the requirement that safety equipment, including a helmet, elbow and knee pads must be worn. Visit www.tonganoxiemirror.com for the complete list of rules.
• Met in a 10-minute executive session with City Attorney Mike Kelly, City Administrator Mike Yanez, assistant city administrator Kathy Bard, and Chris Huffman of Huffman Corridor Consulting, L.L.C. to discuss land acquisition. No action was taken.
• Met in two 20-minute executive sessions with Kelly, Yanez, Bard, Bill New and Chris Donnelly of First State Bank and Trust to discuss land acquisition. No action was taken.
• Met in a 15-minute executive session with Kelly and Yanez to discuss Yanez's contract renewal. No action was taken.