Bulldogs have strong bond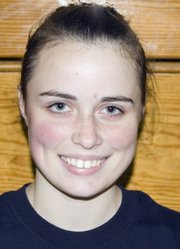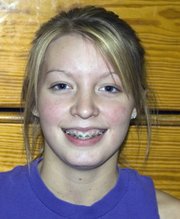 After a slightly disappointing effort in a match recently, McLouth High volleyball coach Erika Houk decided to remind her players about just how important they are to each other.
"Last week when we played at Horton we just kind of fell apart," the coach said of the Bulldogs' efforts while defeating Horton and losing to Valley Falls on Sept. 30.
Houk could tell the team was going through a lull, which is normal, but she came up with a team-bonding idea in hopes of escaping it.
Each player was instructed to bring some kind of memento — something that resembled or invoked a memory of a teammate — to the following day's practice. There, the girls took small pieces of their keepsakes and put them in their shoes to remind them of their value to the team.
"Every time they step on the court, if they get frustrated with each other, they can think about how much that team member does think about them," Houk said.
Kylie Shufflebarger brought a necklace that reminded her of Cassidy Bristol. Courtney Chilcoat brought a quote about smiling and gave it to Katy Perry. Others brought pictures.
Chilcoat, a junior co-captain for MHS, said Houk's idea was just another example (like Crazy Fridays when the team wears goofy outfits to practice or the time they all created posters to decorate the gym) of the team's good chemistry.
"I think we have a lot more fun," Chilcoat said. "My freshman year we had a different coach and you could tell there wasn't as much of a team bond."
They also have occasionally held practices before and after school — two-a-days — to hone their skills. Junior co-captain Shufflebarger said the team is "trying to fix everything" so they won't be playing the "should've, could've" game once the season is finished. Besides, they even find enjoyment at their 6 a.m. practices, like the one they had last week.
"It's definitely tough but this time we only did hitting in the morning, so that makes it more fun," Shufflebarger said. "Who doesn't like to hit?"
The play of the team's co-captains has led MHS to a winning record so far this year.
"They're both two people the whole team looks up to, even those on the freshman team and junior varsity," Houk said of Chilcoat and Shufflebarger, who help run drills and sometimes teach things to the JV team.
The second-year coach said Shufflebarger, who normally leads the team in kills, is the Bulldogs' "go-to-girl" for hits, but her all-around play has led to the team trusting her everywhere on the court. Chilcoat, Houk added, is a "scrappy" player who excels at setting, hitting and defending.
McLouth (17-10) went 2-3 this weekend at the Valley Falls tournament, defeating Axtell and Maranatha Academy. The Bulldogs lost to Valley Falls in two games and Oskaloosa and Baileyville B & B in three.