Chieftains thwart Bobcats in three games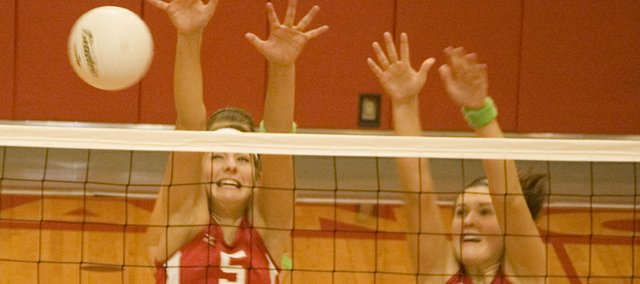 The Chieftains had a lot on their plate Tuesday night — a dual with a Kaw Valley League rival, Senior Night and a chance to get their record back above .500.
But the Tonganoxie High volleyball didn't fall into any distracting traps. THS took care of business and swept visiting Basehor-Linwood in a best-of-five match, 25-21, 25-14 and 25-6.
THS (12-11) had some trouble with the Bobcats in the first game, which it led, 21-20, before earning a win by scoring four of the last five points. After that, however, the Chieftains cruised. They outscored BLHS, 50-20 in the final two games to earn a KVL victory.
Tonganoxie co-coach Brandon Parker said it was a good win for the players because they didn't go through any lapses.
"Being a young team, we've struggled to keep momentum on our side. It's been mountains and valleys — not hills, not even a plateau," Parker said. "Tonight, we didn't really get in a valley."
The first game was closer, Parker said, primarily because of some serving struggles, which the team obviously overcame. The coach also thought the players showed a better defensive presence during their final home game of the season. Additionally, Tonganoxie was efficient with its hitting.
"We were smart with our shots tonight," Parker said, noting it was nice to see the players progressing.
For more on Senior Night, pick up next week's edition of The Mirror.