Leukemia fundraiser under way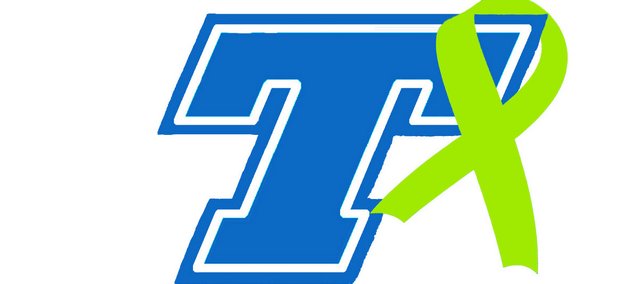 This week marks the beginning of Tonganoxie High's two-week-long Sportin' for Leukemia campaign.
The Chieftains' cross country, football, soccer and volleyball teams all are involved in the event, designed to raise awareness and provide support for families affected by leukemia.
The volleyball team, which played Basehor-Linwood on Tuesday after The Mirror's deadline, was the first THS squad to compete for the cause. The players had sponsors donate a certain amount of money for the total number of digs recorded in the ninth grade, junior varsity and varsity matches. Junior Abby Eisman said beforehand that she expected the team would have extra incentive to perform defensively because of the fundraiser.
"I think we'll definitely work harder to get digs," Eisman said, "because it goes toward a lot more than just a game, it goes toward saving somebody's life."
When the soccer team plays host to Atchison on Thursday, money will be raised each time the Chieftains junior varsity and varsity players put a shot on goal. Senior Jamison Bloomer and junior Keaton Schaffer came up with that donation scenario because, Bloomer said, they are expecting to have more shots than visiting AHS. But, Bloomer added, that shouldn't put any added pressure on the players, who will be helping themselves while helping a good cause.
"I think we'll go out and just shoot," Bloomer said. "The more opportunities we get, the more likely we are to win."
While the football team will have the last opportunity to raise money for the Sportin' for Leukemia Foundation with each yard of total offense it gains while taking on Basehor-Linwood on Oct. 17, the team with the most on the line during one of the fundraising competitions is the cross country team. When the Chieftains play host to the Kaw Valley League meet on Oct. 16, money will be raised for every THS runner who finishes in the top 25. Junior Lauren Hall said the fundraiser should provide even more motivation for the Chieftains.
"For me, it does, to know that I'm doing it for a good cause, not only just team-based, but it's going toward (fighting) leukemia," Hall said. "I think it makes it even better. League meet is already huge for us, but it makes it better to know you have other reasons to run."
It's one thing to be out there having fun and playing for the school, but these THS athletes are taking prep sports to another level of importance during this campaign. Eisman said all of the THS fall athletes are excited about the opportunity.
"I think it's really awesome because all of the sports are getting really into it," Eisman said. "It's more than a game; it goes toward helping people with treatment."
Those interested in contributing to the fundraiser can also make a direct donation to the Sportin' for Leukemia Foundation or buy a T-shirt for $5.