Quilters show off works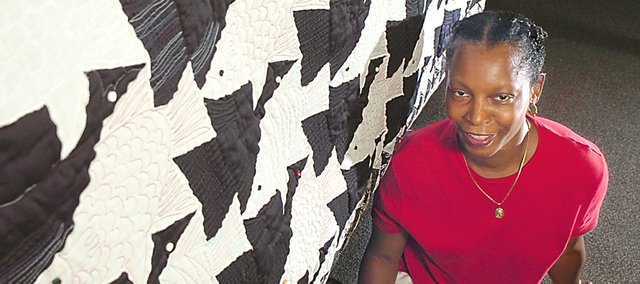 To say Annie Cadet is passionate about her hobby somehow falls short of the mark.
"I will continue sewing and quilting until my eyes cannot see or until my hands cannot hold a needle," Cadet said. "I will have a needle in my hand or some kind of fabric always until that point."
The Tonganoxie resident is exhibiting three homemade quilts in the fall quilt show at the Wyandotte County Historical Museum, 631 N. 126th St. in Bonner Springs.
This is not her first year in the show, which annually draws the interest of a slew of area quilters, but Cadet said she is excited for the opportunity nonetheless.
"I'm proud of what I do and I'm proud to see my working hanging at a museum and have people appreciate it or judge it or whatever they want to do," she said. "I feel like what I do is appreciated. I wish I could have feedback or comments. That's what really helps to improve what I do."
One of Cadet's quilts on display this year has a bold design of black birds on a background of white fish. The birds are embroidered with colorful threads for feathers, while the fish outlines are more subtle. This particular quilt, Cadet said, is her interpretation of a drawing she admired.
Quilting came into Cadet's life in 1998, after she enrolled in a class in Basehor at a former quilt store. But crafts and sewing have been a part of her life far back into her childhood in Haiti.
As a young child, Cadet learned to sew and embroider from her mother and would help by making her clothes. While she no longer makes her own clothes - except for special occasions - she continues to quilt and embroider.
Before taking the quilting class, Cadet said she had read about the craft in several books and magazines. She decided she wanted a more hands-on learning approach to get tips and ideas from people nearby who could show her the techniques first hand.
Cadet now owns her own quilting machine. After sewing together fabric pieces by hand for the top layer of a new quilt, Cadet uses the machine for the actual quilting process that combines the batting and bottom layer. At this point, she can finish a quilt in less than a week and spends a lot of her time quilting together the top layers that other people have created.
This year's fall quilt show started in September and will be on display through Nov. 8 at the museum. The theme, "Community Threads," highlights about 20 quilters and 30 of their creations from all over the Kansas City metro area.
"I think it's probably our most popular exhibition we have each year," said Jennifer Laughlin, museum curator. "We have a tight community of quilters in the area and the interest of quilts is so high. Just in general, (quilting) is a popular hobby for both younger generations and older generations. I think that helps to increase its popularity."
Laughlin said the best part about this year's show is that the quilts showcase the variety of techniques and influences that can be found among quilters these days. From traditional stitches and patterns to more modern, bold geometric designs, she said that the show would have something to interest everyone.
With the show focusing on the area's community of quilters, Laughlin said many of the exhibitions viewers are quilters themselves coming to appreciate the work of others.
"I think there is an admiration for the craft of it," she said. "When quilters come in they like to view the quilt show as almost brainstorming ideas. They're excited to see new ideas, new patterns and new ways to use patterns."
Another featured quilter in the museum's exhibit is Kathy Twitchel, of Basehor. Twitchel also started her quilting career after taking a class. It was 1995, and while she didn't have a lot of experience sewing, she said she was always creative and crafty and thought that the class, which was offered by Wal-Mart, sounded interesting.
Twitchel's quilt on display at the museum is set against a vibrant green background and is covered in applique designs. These days, she sews her quilt blocks together using a sewing machine but in the past did most of the work by hand.
The Wyandotte County Historical Museum exhibit was not Twitchel's first entrance into the quilt-showing world. Twitchel once entered in a show a quilt that was a map of Kansas. Her favorite quilt, however, is currently across her bed and is a "buddy quilt" made of purple and blue fabrics. The quilt was created with a good friends, and she said it's her favorite because "it has sentimental value."
That's the case for many of Twitchel's quilts. She said she mostly make her quilts for family and friends. She finds the process of quilting relaxing and said she's glad she decided to take that class back in 1995.