Robinson a natural leader
Tonganoxie coaches, players trust
QB

's offensive knowledge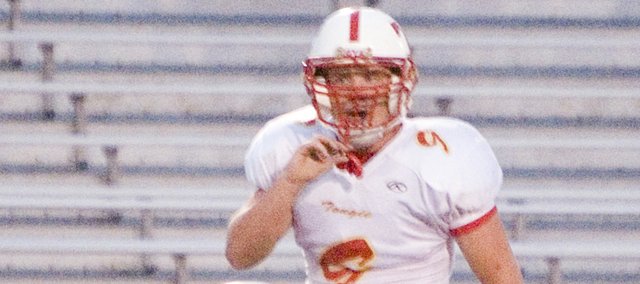 Zack Robinson is a lot of things to the Tonganoxie High football team.
Quarterback. Outside linebacker. Punter. Kicker.
But most importantly, he's a leader and communicator.
That wasn't always the case. Robinson's quarterbacking résumé only includes five games of experience following Friday's double-overtime victory at Santa Fe Trail. And when he first took on the position, he wasn't sure if it was for him.
"I didn't really like quarterback at first," Robinson recalled.
A running back as a THS underclassman, Robinson had no idea he would be the Chieftains' starting QB his senior year. Once coach Mark Elston told him the team needed him as a signal caller, though, he started meticulously studying the playbook, becoming more and more comfortable under center each day.
"Now it just comes easy," he said.
So easy, in fact, that Robinson has become the team's go-to-guy, not only for scoring (four rushing touchdowns and one passing on the season), but also for answers when an offensive player has a mental lapse about an assignment.
Said junior running back Austen Holloway: "If someone doesn't know what to do on a certain play, you can always go to Zack."
Senior lineman Jamie Everett said Robinson has the answers, and his teammates respect that.
"Zack's a great leader. He knows everything," Everett said. "He knows what to do, when to do it, how to do it and why we do it."
Robinson's knowledge is so sound that he often will converse with his coach during a game about which plays are working and which ones aren't.
"That's nice when me and Elston can talk and we can work things out real easily like that," Robinson said. "He tells me what he sees and I tell him what I see and we can run a play based off of that."
It's a rapport Elston is happy to have.
"You can't ask for anything more," he said.
But Robinson delivers plenty more. With linebacking, punting and kicking responsibilities, it's a rarity that he's not on the field — not that he's complaining.
"I get worn out, but I won't let anybody know it," Robinson said. "I just keep going."
He occasionally gets some pleasure out of watching a well-placed, hanging punt and extra points and tackles are always nice, but Robinson didn't hesitate when asked what his favorite position was.
"I'm a quarterback," he said, flashing a quick smile.
It's a job the senior won in the preseason, supplanting incumbent Jeremy Carlisle on the Chieftains' first string. But there is no bitterness between the two competitors.
"It doesn't bother either of us," Robinson said, noting that remains the case even when Carlisle takes the occasional snap at QB during a game. "It doesn't hurt my feelings, it doesn't hurt his feelings."
Carlisle agreed, saying the two have a great relationship.
"We know we need each other on the field," the sophomore said. "We have such great camaraderie and work so good together."
True, the two are a major part of the THS offense, which is a run-first, run-second, run-it-again operation. But all that running doesn't bother Robinson, who admitted he likes to throw it, too, and proved he can twice at SFT on Friday, finding Dylan Scates and D.J. Lindsay on a pair of deep routes.
"I don't care. Whatever coach calls," Robinson said of his preference on offense before talking up the success of the Chieftains' ground attack, which has led them to a 4-1 record. "Why stop now?"
That is what Elston likes to hear from his QB/LB/P/K/leader, and the coach said Robinson's willingness to step up and take responsibility for the team — good or bad — is what makes him special.
"He's really taking charge. You can just see it in people's eyes. When he says something, everybody's paying attention," Elston said. "He's putting it on his shoulders and that's what you've got to have."