Chieftains have a ball on Senior Night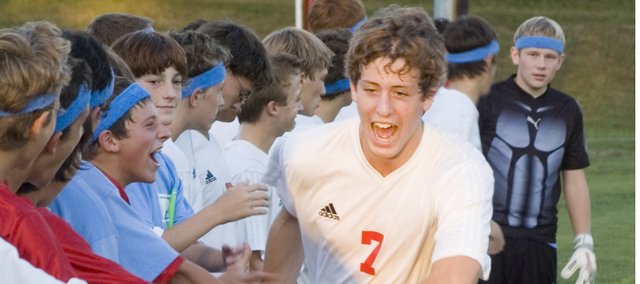 It took less than five minutes for Tonganoxie High to score a goal on Thursday night at Chieftain Park and that opened the first-half floodgates for THS as the Chieftains defeated Atchison, 4-1, on Senior Night.
Joao Martins opened the first-half scoring attack with a goal in the fourth minute after he gathered a pass from Tyler Woolworth. It was the first of four scores for Tonganoxie in the first half.
The second came off of Woolworth's boot, as he bent a shot left-to-right, and into the net in the 15th minute on an assist from senior Jamison Bloomer.
Bloomer scored the following goal for THS (3-8-1) in the 26th minute. He put the Chieftains up, 3-0, on a free kick from about 25 yards out after he drew a foul while attacking the AHS defense.
Just 30 seconds later, Tonganoxie scored its fourth and final goal of the evening on a score by Martins. The Brazilian foreign exchange student put a shot off the left post that ricocheted in, deflating AHS.
The Chieftains are on the road Monday at Turner.
For more on the match, pick up next week's edition of The Mirror.