After quick start, Chieftains struggle in loss to Thunder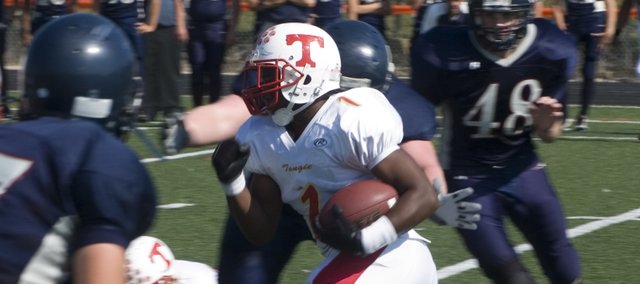 Bonner Springs — After a 14-play, 71-yard drive to open the game Saturday afternoon at David Jaynes Stadium, it appeared Tonganoxie High had set the tone against St. James Academy, but senior quarterback Zack Robinson's 12-yard touchdown run with 6:34 remaining in the first quarter proved to be the Chieftains' only score as THS lost to the Thunder, 13-7.
Tonganoxie (4-2), it seemed, had really harnessed the game's momentum when, on the ensuing kickoff, sophomore Tucker Hollingsworth recovered his own squib kick, which St. James couldn't handle. But a fumbled exchange under center by the Chieftains on the very next play gave the ball right back to the Thunder.
The Chieftains went three-and-out on their next three possessions and didn't pick up another first down until the final play of the first half. THS had even more offensive struggles in the second half, compiling just 43 yards from scrimmage and picking up three first downs.
Tonganoxie got a big defensive play at the end of the first quarter when sophomore Jeremy Carlisle picked off a pass thanks to backfield pressure by senior lineman Bill Seymour. However, Carlisle aggravated an injury to his right shoulder on the play and was sidelined for the remainder of the game. THS also lost senior lineman Shawn Roberts in the first quarter due to a concussion. Roberts left the stadium in an ambulance, but coach Mark Elston said it was a precautionary measure and the senior should be fine.
Tonganoxie begins district play on Friday as it plays host to Basehor-Linwood at 7 p.m.
SCORE BY QUARTERS
THS 7 0 0 0 — 7
SJA 0 7 0 6 — 13
RUSHING
THS: Zack Robinson 13-56, Jeremie Maus 11-23, Austen Holloway 8-16, D.J. Lindsay 5-16, Jeremy Carlisle 2-14, Tucker Hollingsworth 2-6.
PASSING
THS: Robinson 4-9-66, interception.
RECEIVING
THS: Dylan Scates 1-42, Justin Jacobs 2-19, Maus 1-5.
HOW THEY SCORED
FIRST QUARTER
(6:34) Zack Robinson, THS, 12 run. Robinson kick. (Tonganoxie 7, St. James 0).
SECOND QUARTER
(4:17) Dan Baird, SJA, 25 pass from Jim Getto. Christian Mata kick. (Tonganoxie 7, St. James 7).
FOURTH QUARTER
(7:18) Avril Morrisette, SJA, 5 run. Getto sacked on two-point conversion. (St. James, 13, Tonganoxie 7).